I hope you have all had a good summer and enjoyed the warmer weather without being too badly impacted by Covid. It's a bit of a marathon report this time after the summer break, but I have tried to give a flavour of the amount of work going on during the close season, and also the range of community involvement by the Club, which has really ramped up again with the lifting of pandemic restrictions.
Football Update:
It's been great to see fans back in the stadium for our Cup matches after the close season break. As members will be aware, the first team squad had a pre - season week at Largs, followed by a trip to Spain, where matches took place against Lincoln Red Imps and Charlton Athletic. Matches were also played against Queen of the South (behind closed doors) and Dunfermline.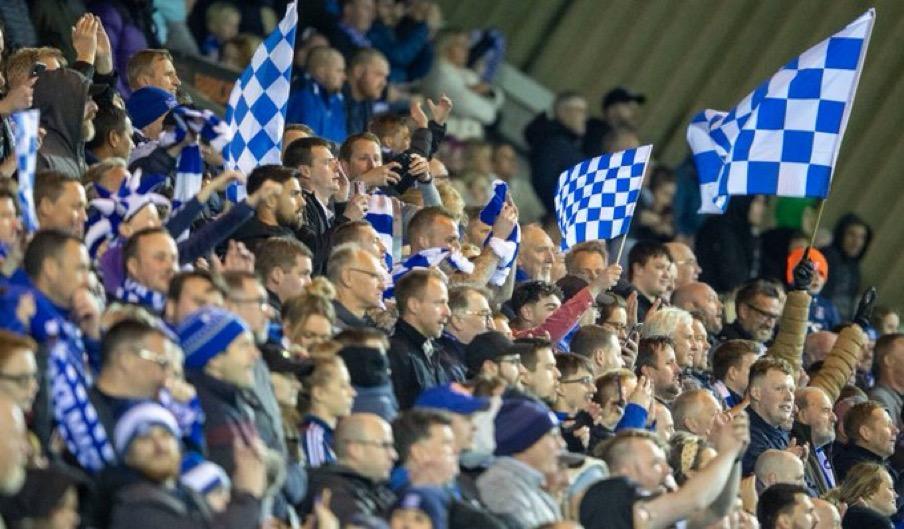 Thanks to the fans who made the long journeys to Fraserburgh and Montrose, as well as turning out at home for the Cup matches against Partick Thistle and Stenhousemuir. With a number of injuries to contend with, the squad dug in and provided a strong finish. Although disappointed that we didn't top the group, the main objective was to move into the next round, which, as the Manager has said in interviews, will feel more like a Cup competition than the group stages did, especially as we now know we will line up against Hearts at Tynecastle!
Meantime I'm sure we are all looking forward to 'flag day' tomorrow when we kick off the new season against Dundee Utd!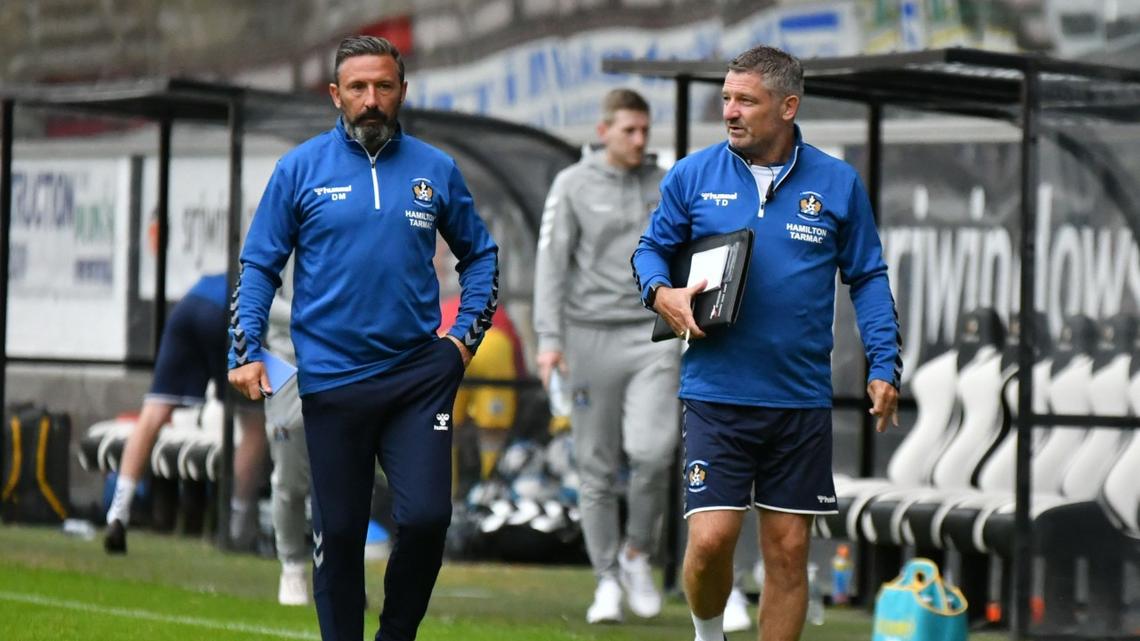 The Manager has been consistent in his regular media and post-match interviews about his desire to build a squad that can compete in the top league. He hopes to add further players to the squad in addition to those familiar faces who have returned to Killie and the new players who have already joined. The backroom team has also been strengthened with additional capacity in analysis and physio, with a revamp of recruitment and scouting also under way.
As members will recall, the Club took some difficult staffing decisions when the Covid pandemic first emerged, and throughout the championship season the non-football staff team continued in those limited numbers. With a return to the top league plus changes in the Youth Academy set up and the new league for the Women's Team under auspices of the SPFL, it was important to review capacity and structure.
Head of Football Operations James Fowler left the club having decided that he preferred to seek a new challenge elsewhere, and we wish him and his family well for whatever comes next.
Head of Media Scott McClymont also departed after 5 years at the club having secured a position with a charity, which will allow his career to develop. Again, we wish him well and I know he is looking forward to returning to Rugby Park as a season ticket holder!
At time of writing the recruitment process has not been fully completed for all appointments, and the Club will give an update on the restructured staff team once all are in place.
Also on the football side:
The Club has confirmed that we will participate in the new Reserve League next season. This will see a limited number of matches played on fortnightly basis, leaving opportunities for additional friendly matches as well as the Reserve Cup.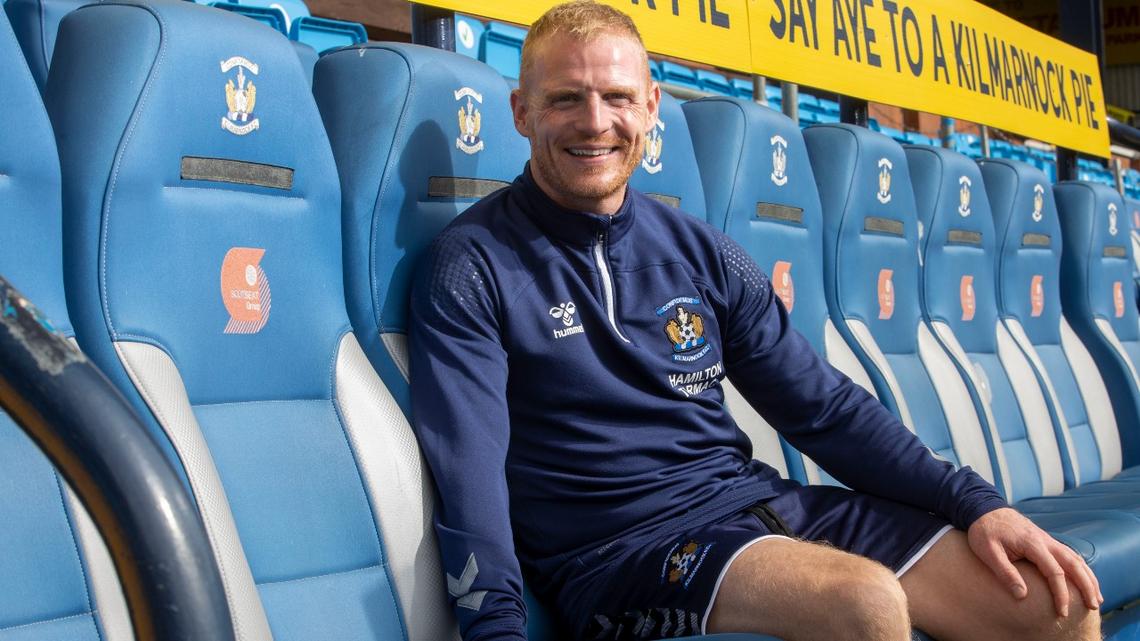 We were delighted to welcome Chris Burke back to take up the role of Reserves, U18s and Intermediates Coach. He will be working closely with Craig Clark and Paul di Giacomo as well as linking in with first team staff. Paul di Giacomo has also brought back some familiar faces to assist with the Youth Academy. Alan Robertson will take on a 'floating' coach role, looking after loaned out Academy players, and act as an Academy scout within the East Renfrewshire/East Kilbride areas, as part of a revamped scouting network. Paul Wright will coach the Academy 2008's (under 15's) like Alan, bringing a wealth of experience.
The Academy under 18s squad participated in a pre-season trip to Stoke, which was a great experience for the young players, and we are keen to see more opportunities like this. Trust Chair Jim Thomson and I have discussed with Paul di Giacomo how we can support further opportunities for the Youth Academy to participate in competitions and tournaments such as the 'Super Cup Northern Ireland' which will be held next year, so watch out for information from the Trust on this! A group of Academy parents have formed a fundraising Committee and are planning various events to help raise funds. All of the funds raised will be used to directly benefit the young players and their development.
Through my 'day job' with Care Visions, I have facilitated an opportunity for our youth academy to participate in the development of a wellbeing programme for young players as part of a pilot, which also includes the Dundee Utd Academy. This work is funded by Care Visions and being done in conjunction with Stirling University.
Everyone at the Club was saddened at the news of the passing of Willie Fisher, who had a long association with our youth set up. Our condolences go to his family and friends.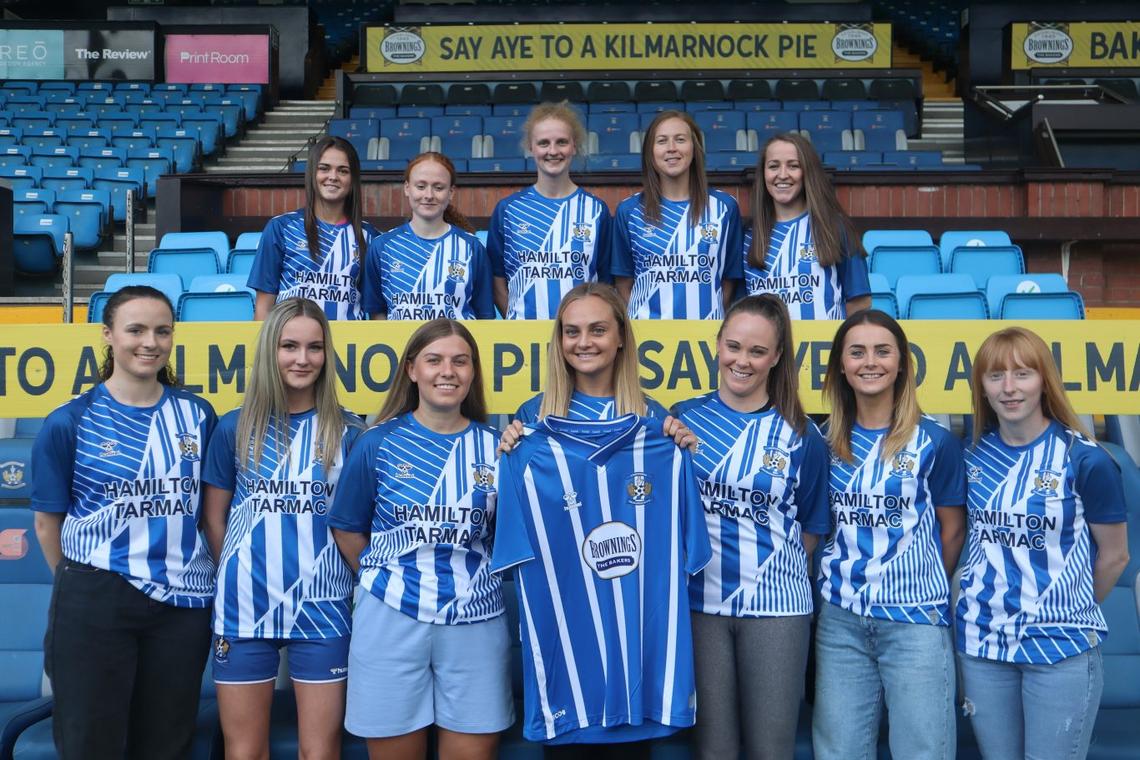 The Club is committing further support to the Women's First Team with the appointment of Jim Chapman as Women's Football Development Manager. Jim is no stranger to Killie, having been coach of a previous highly successful Killie Women's team, as well as managerial experience in the men's game. He has recently returned to Scotland after a spell coaching in USA. Thanks are due to Craig Clark, Paul di Giacomo, Andy Black, Chris Burke, Alan Robertson and Nathan Wallace, who supported the Women's team in various ways in the interim, including taking training and dealing with initial work on contracts for the season ahead. I met with the women's squad, along with Gregg McEwan from the Club, and Phyllis McLeish has also met with them, to outline our commitment as a club and to hear their views on how we can best support them going forward so that we are able to challenge for a top league spot.
Hear from Jim Chapman here
The Women's Fixture List can be found here
Facilities Upgrades: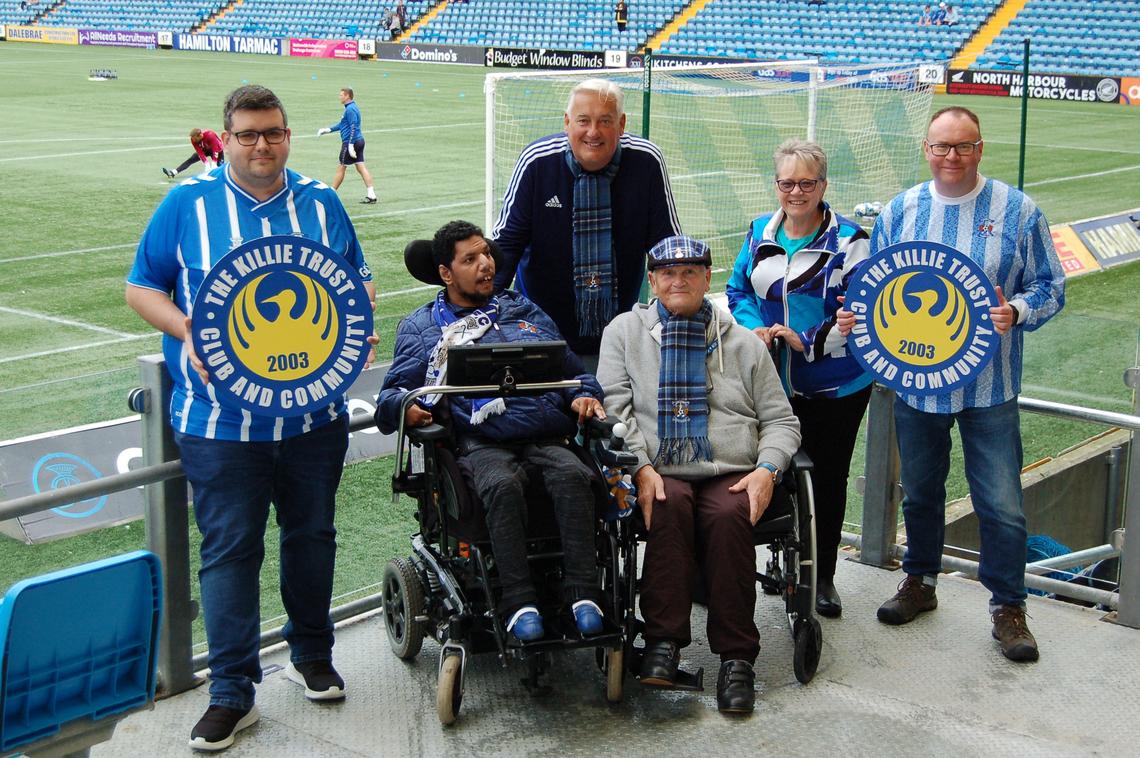 During the close season the work on the wheelchair platform was completed and it was good to see members of KFCDSA finally get into their places!
Power washing has also been done on roof sections, and damaged seating repaired and replaced.
Work has commenced on the cladding for the portacabins at the Moffat Stand.
Internally, the first team dressing room, which had not been upgraded since the 90's has been completely refurbished and alterations have been undertaken to improve the office accommodation for the Manager, coaches and backroom team. The referees' room has also been revamped.
In the 1869 Suite, new carpet has been installed and the original wooden dance floor been restored, giving greater flexibility for the type of events it can host.
The former Premier Lounge, which had latterly been used as a temporary office, is also being completely renovated, giving additional capacity on match day for guests and hospitality. The Privilege Seat Holder Board which had been located in that facility has been moved to another position within the stadium so that it can be visible during stadium tours and fans attending other hospitality.
The Museum requires a couple of things to be completed before it can open to public, but it is still planned to use this as base for stadium tours, to host lower cost family friendly hospitality option on match day and to be open to public a couple of afternoons per week.
Commercial Highlights:
The early launch of new kit has gone down well with 6,500 shirts purchased between home, away and third shirt
The popular Killie Ltd line sold over 2500 items
Champions merchandise range, which was on sale quickly after title winning match, sold almost 2000 units
Almost 4500 season tickets were sold in the early bird window ending 30/6/22 and this has risen to 4800. It would be fantastic if we could reach 5000!
Season ticket cards are now available for collection from the Ticket Office for those who ordered these.
889 "bricks" have been sold as at 30/6/22
Captain Conker book was launched in April and has sold 250 copies
New season player sponsorships for first team squad are now available. For the coming season the package will include an opportunity to watch a training session.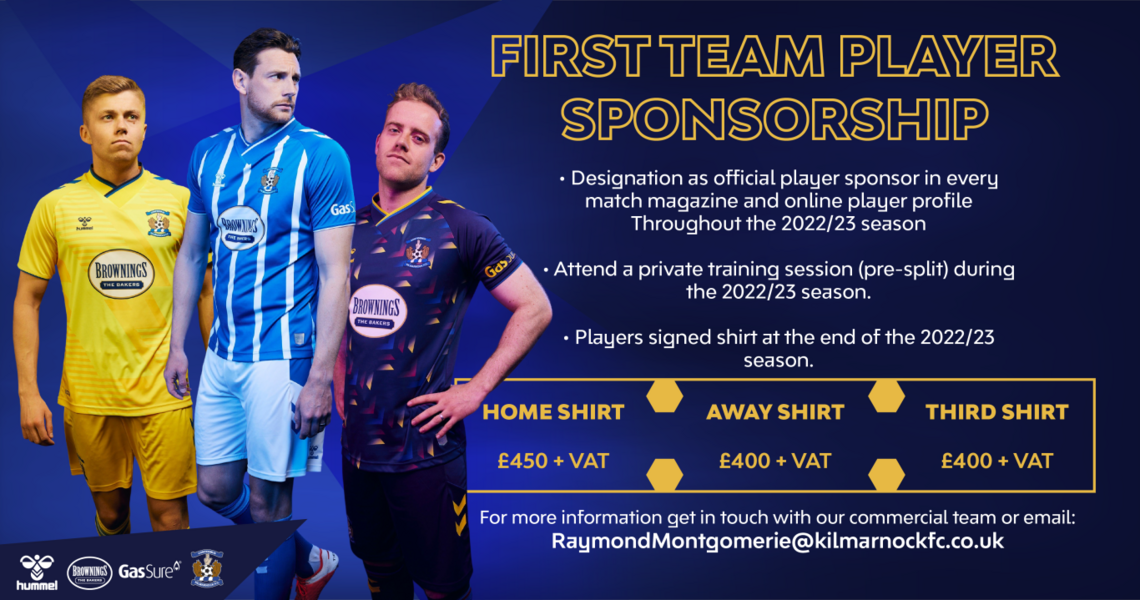 Anyone wishing to sponsor a player shirt should contact [email protected]
Arrangements for sponsoring Women's team shirts will be announced in due course, but in meantime, if anyone would like to register interest, please let me know. (Thanks to those who have already been in touch)
It was confirmed that Hummel will be kit supplier until summer 2026
The Club hosted the Scottish Junior Cup Final at Rugby Park, which saw a win by Auchinleck Talbot over Yoker Athletic FC
Fan and Community Engagement:
A number of fans contacted me regarding the possibility of an Open Day ahead of season staring. We did consider this, but with the fixtures falling as they did and being in the middle of recruitment on both the playing side and club staff, it was felt that it would not be feasible to anything of scale at that time.
We therefore prioritised building on community connections and focussing on young people in particular, getting the Championship Trophy out and about.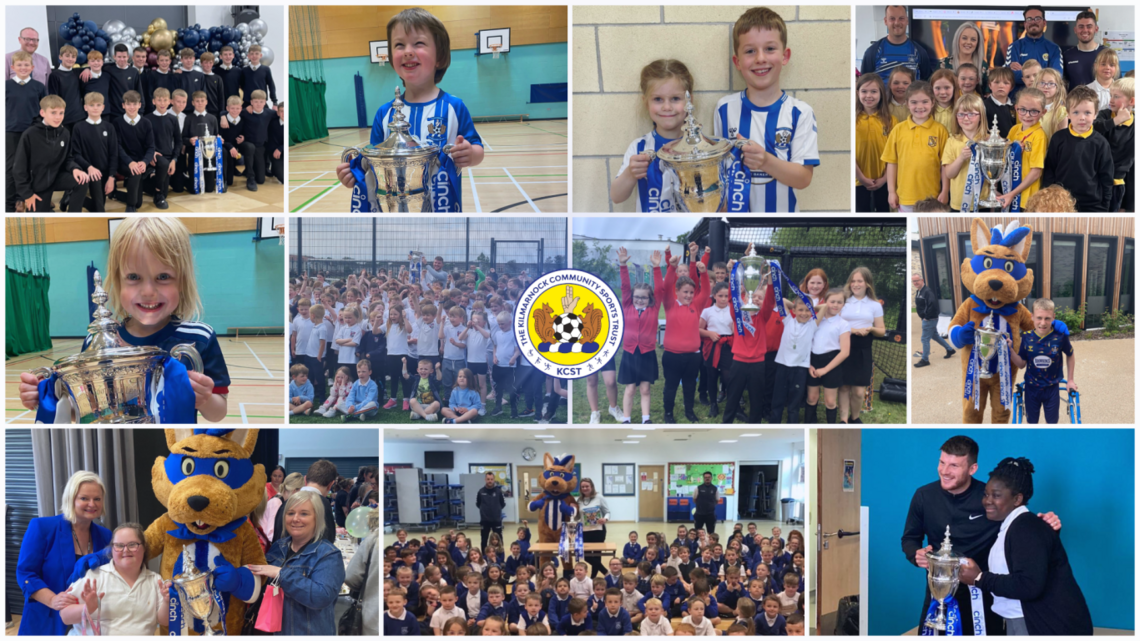 The 'Trophy Tour' which was carried out by KCST saw 5925 young people across schools in East and North Ayrshire get to see the cup up close, which will hopefully spark interest amongst kids who have not yet been to Rugby Park as well as those who are already Killie fans!
We have generally been working hard via the Club, the Killie Trust and KCST to encourage children and young people to get involved in supporting the Club. It has been very heartening to see the rise in Season Tickets for young people and we very much hope that the Season Ticket Youth Pathway will get young people continuing to support the club at various stages in their lives.
Thanks to generous donations by Killie Trust members and other Killie fans, the Moffat Safe Standing Area and rows immediately in front, will now mostly be given over to the Secondary School Supporters' Groups. Trust Chair Jim Thomson and I met with representatives from the groups, including teachers and students, to discuss how best to allocate places, and it was agreed that schools themselves would take this on. Additional free tickets will be made available as before to local groups and also to primary schools, via KCST. As Trust members will know, we believe that our safe standing area within a family stand is pretty unique and, with the changing of regulations in England set to allow more safe standing at matches there, our own safe standing has again attracted some interest.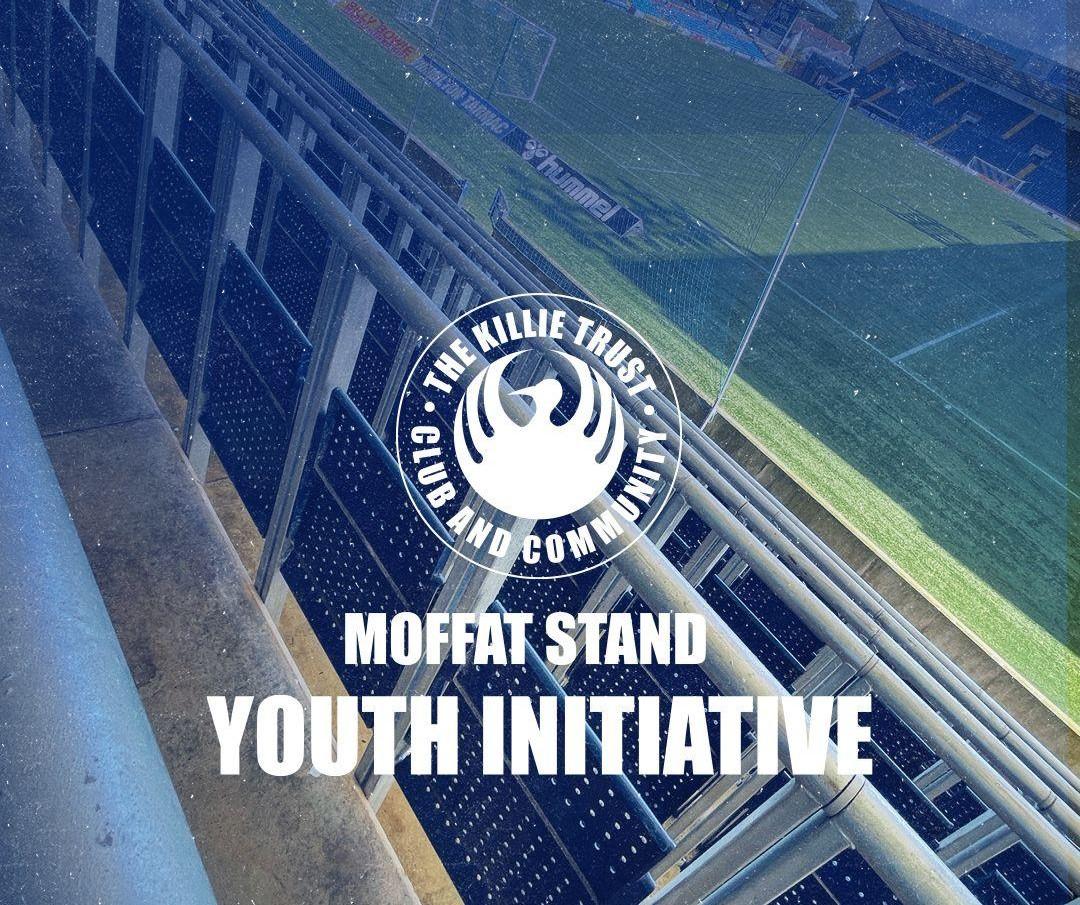 The Club worked with young fans to support their plans for the 'TIFO' card display at the final league match last season. We have again supported their ideas for the opening match of the season and will continue to work with them on ways of creating the kind of atmosphere which will add to the match day experience.
KCST activities have increased. The Summer Programme started with the launch of KCST 'Fitba First' programme which welcomed 30 P6s-S2s, mostly from Onthank Primary and St. Joseph's Academy, along to the stadium every day for breakfast, free football, First Aid and defibrillator training, and a healthy, player's lunch prepared by the club's chefs.
Since Fitba First, KCST has been delivering our 'Killie Masterclass' (for 12-18 age group) and 'Summer Champions' (for 5-12 age group) football camps at Ayrshire College. For the Summer Champions, each day between 110 -140 local kids along each day. Each one received a free, healthy lunch thanks to West FM Cash for Kids.
Our Refugee Inclusion programme continues to flourish with a group of up to 8 youngsters originally from Syria and Afghanistan coming along to Rugby Park every Monday with their families to enjoy free football and to feel part of the football club. On 27th July we surprised 32 Ukrainian young people with some Killie kit of their own and games on the pitch!
Alongside the Summer Football programme, KCST's Hexagol sessions took place at the Johnnie Walker Estate Gala, and the Ayrshire Athletics Arena on Tues 26th July. It will be at:
East Ayrshire Council's Play Day at Kay Park on Wednesday 3rd August
Kilwinning's Picnic in the Park on Thursday 11th August
Rose Reilly Sports Centre on Monday 15th August
Barony Campus Cumnock's P7 Transition event on Friday 12th August
The Football Memories group continues to grow, with 41 participants at the last event where Ross Mathie and the group discussed the Tartan Army through generations and heard some of his stories from involvement with the Scotland National Team. The group meets on the first Monday of each month, with weekly Killie drop-ins also at the Alzheimer Scotland Resource Centre every other Monday.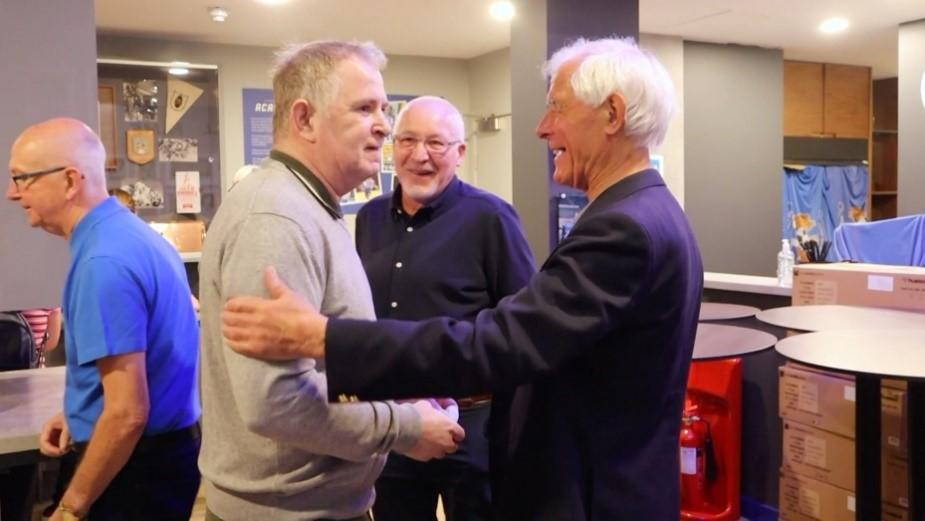 The next Football Memories event is on Monday 1 August when the Group will visit the Scottish Football Museum at Hampden. For more information on any of these events, or if you would like to join or volunteer, please email [email protected]
The very popular 'Weigh to Go' is coming back after a hugely successful block of men's and women's programmes, culminating in a game of Walking Football between the groups vs Jack Sanders, Zach Hemming and Chris Stokes! Sign-ups are now open with the deadline for registrations on 29thJuly at 12pm.
Women's group is led by Mairi Mackenzie: LINK
Men's group is led by Daryl Knapp: LINK
Future programmes to look forward to include:
The Changing Room (challenging mental health issues)
Football Fans in Training
First Aid and Defibrillator Training
Killie Trust Activities: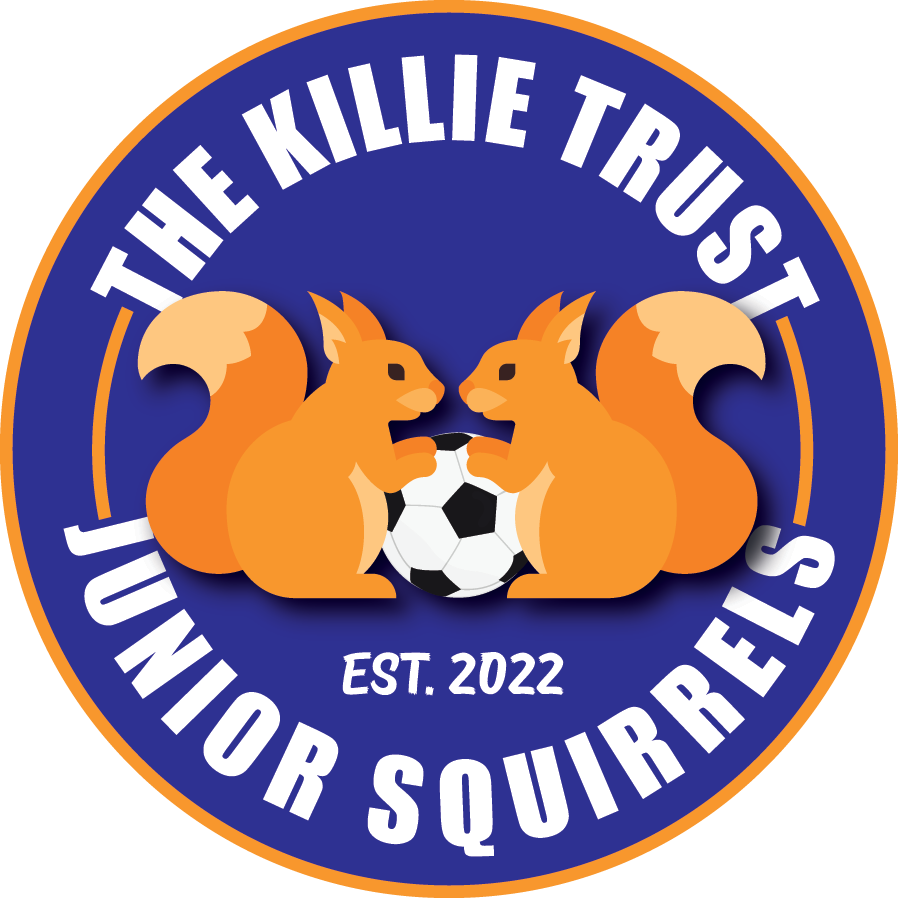 The Junior Killie Trust has been launched, including the Squirrel Club for the youngest fans. There will be a range of membership benefits and activities on offer, including the chance to be a match mascot, and a kids' Christmas Party. Between the Schools Supporters Clubs and the Junior Trust, this also gives the Club a way of engaging and consulting younger fans about their views.
You Can Join the Junior Trust at this Link
As well as reaching out to young people, we have also been working to ensure that all of our fan base feels included within the Club. I hosted a Forum in the Champions Lounge for Women Trust members, where we discussed how some simple improvements could be made to the facilities, merchandise and travelling to enable more women to be involved. I have committed to a quarterly meeting for women supporters and information on the next meeting will be circulated via the Trust.
Dates for all member forums, and also an online meeting for 'Killie Exiles' are being finalised and will be circulated via the Killie Trust.
The date for the On Board In Person event with the Manger will also be circulated for those who had signed up to the event which had to be postponed. The Manager did a Q and A at the KFCSA AGM which I also attended. We will also be looking at future OBIP events, so any suggestions for those please let us know!
Trust Board member Robert Foster has been working with Fans Supporting Foodbanks Scotland, which launched on 12 July. Clubs who have so gave initial backing to the initiative include ourselves at Kilmarnock FC, along with Celtic, Partick Thistle, Dundee and Dundee Utd. The Trust and the Club will be working together to support regular collections at home matches. Planning is under way for the first collection at Rugby Park If anyone is interested in being involved, please let me know!
During the summer months the Trust Board has continued to work on our internal review of Trust activities, and mission future mission, with support from Trust Board member Martin Boyle. With the Trust's 20th Anniversary coming up next year, the Trust Board will be finalising recommendations for discussion with members, so that we can agree both short- and longer-term priorities. Further information will be sent out by the Trust Board.
Getting in touch:
I can be contacted in a number of ways -
Email:

[email protected]

Twitter: @cathyjamieson
Instagram: cathyjamiesonkillie
Facebook: cathy jamieson
While I am happy to engage via social media, I'm sure members will understand that I am not monitoring that round the clock and may not be able to instantly reply. I have had some issues with FB messenger so if you don't get a response from that, please do try another channel! An email to me is often a better way of dealing with more complex issues.