With the new season under way, we saw a number of new signings for the first team. The Manager has spoken in interviews about the use of loan players and working to build the squad, while acknowledging that would not be done within one transfer window.
While we had a good away result in the Cup, the one goal losses at Ross County and Livingston were disappointing, but everyone knows the importance of picking up points now league business returns at the weekend, following the international break.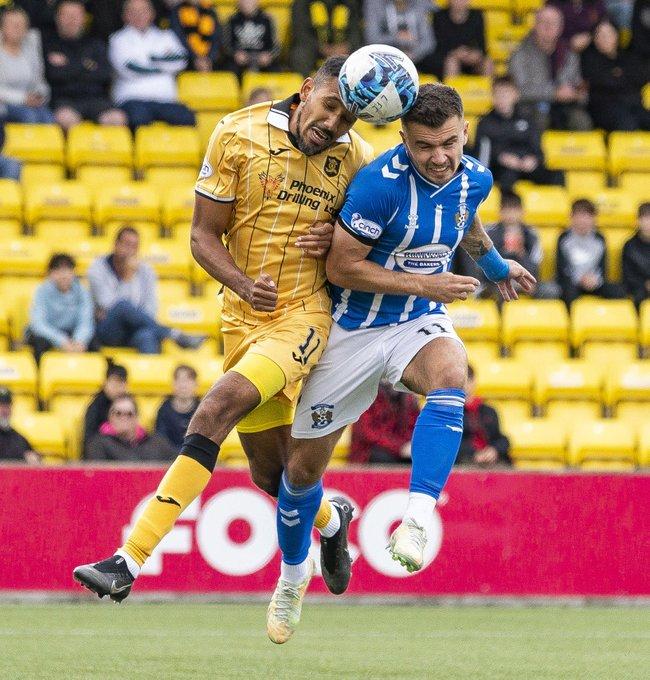 With the rescheduled St Johnstone match added to the October calendar, alongside the Cup match against Dundee United and league fixtures, it will be a busy month leading into November ahead of the world cup break. Also, following discussion between both clubs, a joint request was made for the home league match against Livingston to be on Friday 4 November to help with another crowded week of matches.
The Club has issued a statement regarding allegation that a player had been involved in use of sectarian language. No further comment can be made at present. The statement can be viewed HERE.
New Faces
As I indicated in my previous report, the summer months have seen a review of various aspects of the club operations, which has led to a number of changes and new appointments.
Phyllis McLeish has taken on the role of Managing Director, and will play a hands-on role across the Club, having already overseen development of the club's commercial and financial activities since joining as a Director in 2018.
Day to day operational responsibilities will be the responsibility of Gregg McEwan, who moves from his former position as Head of Marketing & Commercial Operations to become General Manager.
Liam McDaid has joined our football administration team, working alongside Club Secretary Karen Costello, bringing a wealth of club governing body experience to the team. Lynne Bryson has joined to deal with Finance and Andrew Fitzsimmons has taken up the role of Marketing and Media Co-ordinator, bringing a depth of sports marketing experience from his previous position as Sports PR Account Manager at a Glasgow-based agency.
In the football operations department, Russ Richardson has been appointed as Recruitment Manager and will reunite with Derek McInnes, who he worked closely with at both Bristol City FC and Aberdeen FC. Joining from Liverpool FC's scouting team, Russ will now turn his attention to enhancing the recruitment process.
Also re-joining Derek McInnes is new Senior Analyst, Greig Thomson, who will utilise a wealth of experience as an Analyst with the Scottish Football Association and as Aberdeen FC's former Head of Performance Analysis.
These posts will strengthen the Club both on and off the pitch, providing increased support across departments as we work to continuously improve.
In addition to general Club director responsibilities, I will continue to focus on fan engagement, club and community and liaising with the media and communications team.
I have also joined the Board of KCST, and will attend monthly board meetings, which I hope will help increase the cooperation between Club, the Killie Trust and KCST going forward.
Commercial update: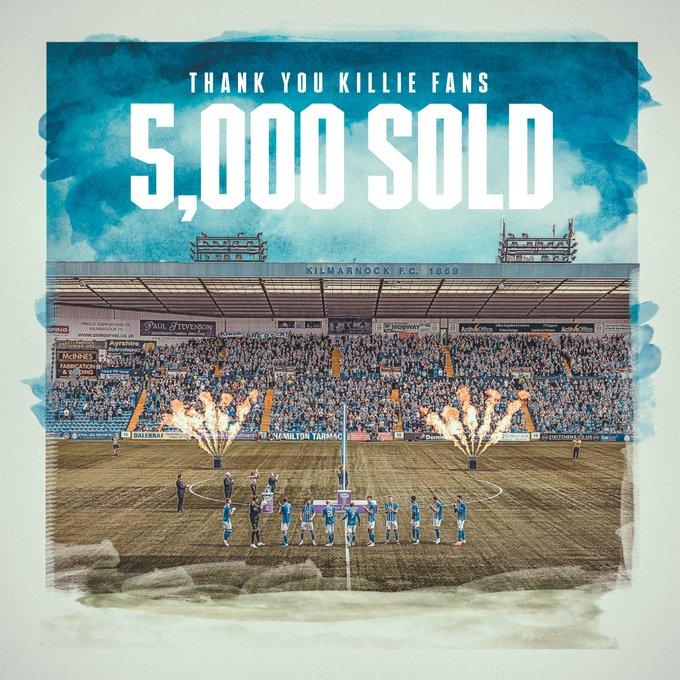 Many thanks to the fans who have bought season tickets. Between individual sales and the seats purchased by the Killie Trust, following many generous donations by our fans for use by our Schools Supporters Groups, we have topped the 5000 mark, which is fantastic. This is the highest number of sales since the 1999/2000 season and a similar record for kit sales.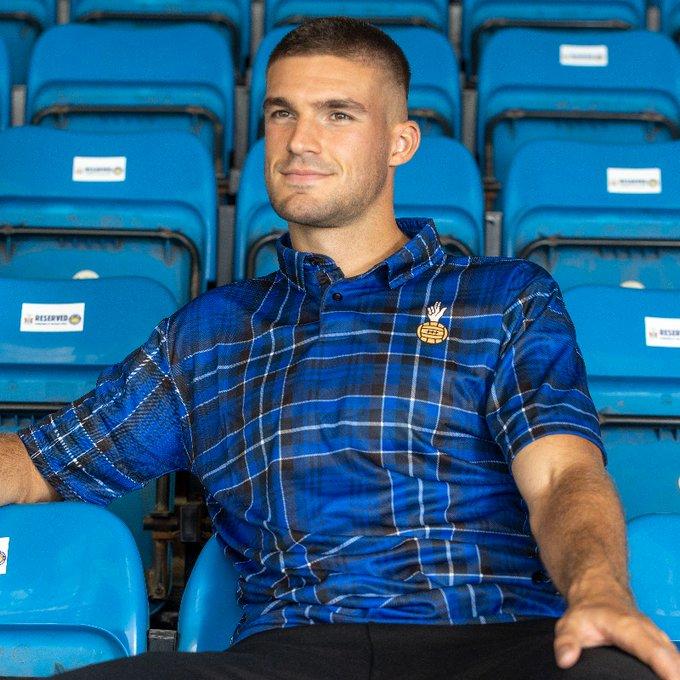 The shop has been restocked with the popular Killie Ltd brand, along with a new Killie tartan polo.
The Museum is now open and seeing a healthy footfall, with Club Historian John Livingstone available to guide tours.
The memorial garden packages are now available, and an additional memory wall has been added, for those who don't wish to have a Service or scatter ashes. The plaque for this is identical to the memorial garden plaques, being "Bahama Blue Granite"
We were delighted to announce Redrock Automation as the club's first ever 'bottom back of shirt' sponsor, which sees the logo on men's and women's first team shirts for the season.
Advertising Board sponsorship has been selling well, with a number of new companies added to the perimeter slots.
First team player shirts sponsorships are still available from £400 plus VAT and anyone wishing more details should contact

[email protected]

Women's first team player shirt sponsorships are now also available for £100 for either home or away, or £150 for both per player. More details are available from

[email protected]

Being mindful of the number of matches in October and the current financial climate, we are pleased to have worked with Dundee Utd to agree that our quarter final cup tie tickets will be priced at £20/£15/£10
Media
Thanks to our multimedia assistant Scott Symington who held the fort across our various media platforms until Andrew Fitzsimmons started in his role. I met with them, and Gregg McEwan, to discuss our plans to develop the media offering going forward. Andy has some creative ideas on how to build from our previous approach and content, to create an increased interactive presence on social media platforms, as well as ensuring that match information is communicated. Now that Andy is in post, we will be able to bring less formal clips involving players, letting fans see more of the people side.
Former Killie Trust Board member Gordon Gillen, who runs the Killie Histories Podcast, has taken over editorial responsibility for the monthly Club magazine.
Youth Academy and Women's teams
Having watched the Killie B team, the under 18s and the Women's team in their recent matches, it has been good to see various coaches across the club working together, and also the support from fans who have turned out. The Club has been working on providing earlier information about fixtures (although these can be subject to change at late stage) and going forward the plan is to have more match updates for these fixtures.
Discussions have taken place with Academy Manager Paul di Giacomo regarding how we can best support the Academy's aim of getting young players experience of trips to tournaments and focussing our fundraising efforts on this, to build and add to the successful efforts made by Academy families and friends.
Similarly, we have had discussion with Women's Development Manager Jim Chapman, on support for the Women's team. The Trust have sponsored first team players, Georgina Crooks and Laura McLaughlin's home and away shirts using our general funds, as a financial contribution. The Trust is also taking responsibility for some of the matchday operations for the Women's Team and helping build the support base.
KCST
Kilmarnock Community Sports Trust continues to work across Ayrshire with people of all ages, stages and backgrounds.
Killie Kickers sessions allow children from the age of three to begin involvement in football. KCST coaching helps develop and progress core skills such as passing, dribbling and shooting, whilst also improving their 'ABC's – agility, balance & co-ordination. Various themes such as Disney, being at the beach, pirates, dinosaurs and favourite football players are used to maximise youngsters' engagement throughout the hour sessions. Visits from Captain Conker have also brought huge levels of excitement and energy. For information on available spaces contact

[email protected]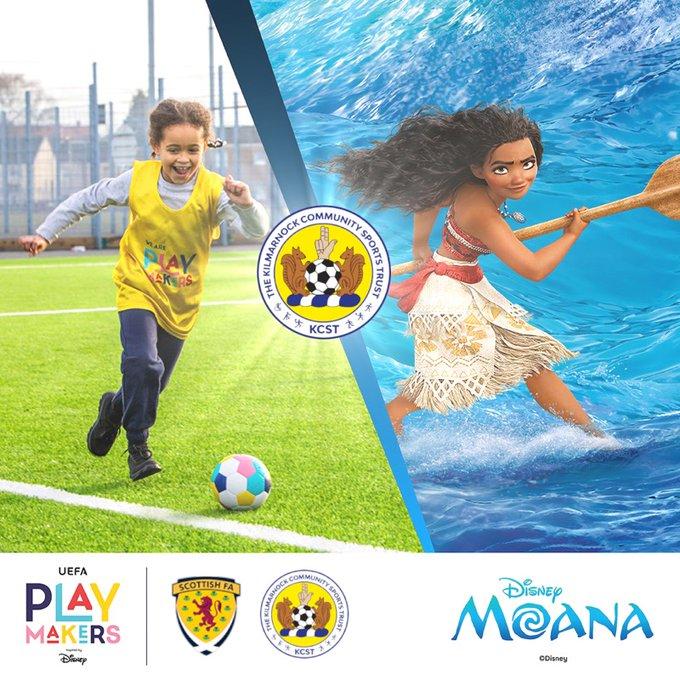 In conjunction with the Killie Trust, KCST hosted the fanzone at the recent home match against Motherwell. Activities included an 8-team 5-a-side school tournament on the Street Pitch, Hexagol games and a predict the score competition. With the match against St Johnstone rescheduled, plans are underway to have the next kids Fanzone at the home match against Hearts on Sunday 9th October.
As part of the club's support for the local recovery community, players and staff are undertaking training in vital, life-saving overdose prevention. In partnership with Recovery Enterprises, Killie staff will learn how to administer Naloxone, an intramuscular injection used to prevent death by overdose, as part of the club's commitment to supporting the fight against the drugs deaths crisis. NHS Ayrshire & Arran recorded at least 100 drug-related deaths in 2021. Approximately 90% of drug-related deaths in Ayrshire involve an opioid, which can be prevented by use of Naloxone. Naloxone is estimated to have saved more than 51 lives in communities. However, many saves go unreported, and it is likely that the number saved is much higher. KCST is working in partnership with Recovery Enterprises Scotland to raise awareness of their services, and to provide health and wellbeing support for local people in recovery from alcohol and drug addiction.
Supported by KCST, Recovery Champions, will launch on October 7th, 2022, and will run every Friday at Rugby Park combining walking football with a Recovery Café. If you are interested in taking part or volunteering, please email Deborah MacGillivray at

[email protected]

.
Following Kilmarnock Women signing their first ever professional contracts, KCST launched Women's Recreational Football which now has 20 supporters signed up, from 18- 50 years old and of all abilities. Players enjoy fun, casual football at Rugby Park every Tuesday evening. If you'd like more information, please email

[email protected]

.
Football Memories continues to take place at 2pm at Rugby Park on the first Monday of each month, with weekly Killie drop-ins at the Alzheimer Resource Centre. KCST Charity Manager Jordan Allison was invited to join Hampden Museum curator, Richard McBrearty, and ex-Rangers striker Mark Hateley at the Alzheimer Scotland National Conference on 5th September, where Jordan discussed the importance of Football Memories for the Killie community.
Along with representatives from the Club, Killie Trust, local schools and community groups, Football memories and Alzheimer's Scotland, I attended the KCST consultation event which discussed what additional projects and activities could benefit our communities if additional external funding can be secured.
Killie Trust Activity
Once again it has been a busy time for the Trust, and members will have seen an increase the number of regular communications directly via email. In order to increase engagement, we have restarted members forums in addition to the regular monthly Trust Board meetings. These sessions have given members the opportunity to raise issues, share ideas and suggestions and ask questions.
Since my last report, we have held an
online Zoom forum, which was open to all members
online "Killie Exiles" Forum for fans who live at a distance
in person Women's Forum
A further all members forum is planned for Tuesday 11 October and further information will be circulated by the Trust.
The Trust Board has held a meeting with Club Managing Director Phyllis McLeish and General Manager Gregg McEwan to discuss how we can best work in partnership going forward, and how key priorities for the Trust can be aligned with Club priorities.
Meetings have also taken place with KCST regarding the fanzone development and match day activities.
As part of the Scottish Fans Supporting Foodbanks initiative, we have agreed to hold a Foodbank Collection at home matches, with one drop off point for donations at the Moffat stand turnstile area.
We are looking to build a pool of volunteers to help with matchday activities including for reserves, youth academy and women's matches. If you would like to be involved, please get in touch! The Trust has agreed to supply specially designed kit for the volunteers to wear on matchdays to make them easily identifiable.
The return of our matchday mascots was delayed due to the postponement of our last home match, but we will see them in action at the rescheduled fixture and subsequent home matches. Organisation of the mascots is being done by the Killie Trust, linking in with the Junior Trust. Email us at - the

[email protected]

for information.
The Schools Supporters Groups have continued to flourish with Robert Burns Academy in Cumnock joining William McIlvanney, Grange, St Joseph's and Loudoun in having school-based clubs. We're currently looking at Secondary Schools in North Ayrshire. As well as contributing to the Fan Zone activity, the schools have also agreed to work on a rota to help tidy up the stadium after matches.
Discussions are ongoing in relation to the potential of having screens/scoreboards installed in the stadium.
Thanks to the Trust members who voted for the proposals to provide £4400 for portable goals for the youth academy, which can also be used for community development.
Members also agreed to fund Inflatable Football equipment to be used in the Fanzone and for schools and community events at a cost of £6650
Auchinleck Talbot Legends v Killie Legends
A team of Killie legends, including some well known faces, will play Auchinleck Talbot legends on Sunday 2nd October with kick off at 2 pm at Beechwood Park, Auchinleck. The match is a testimonial event for long serving Talbot goalkeeper Andy Leishman, and entry is £5 at the gate.
Supporter Liaison
In addition to regular informal contact, I have a monthly meeting with Allen Kyle, SLO, where we discuss issues which fans have raised and work on finding solutions. Allen has assisted with a number of issues relating to away ticketing, which is not always with the gift of Killie to organise. In particular he has assisted fans who live some distance from the ground and have been unable to call in personally to buy away tickets, by collecting these and taking them on matchdays. He is happy to do this but please don't leave till last minute if you need this help!
Allen can be contacted directly by email allenkyle@kilmarnock fc.co.uk
Get in touch
I can be contacted in a number of ways:
Email: [email protected]
Twitter: @cathyjamieson
Instagram: cathyjamiesonkillie
FaceBook: Cathy Jamieson
LinkedIn: Cathy Jamieson FRSA
I do receive a lot of informal contacts and I am happy to respond to them, but it is really helpful if contacts on more complex questions or issues are emailed to me as it helps me keep track and follow up!
I'm also not on social media round the clock, so may not be able to reply instantly. Please also note that I've had some issues with FB messenger, so if you have tried to contact me by that route and not received a response, please drop me a message on another channel.
Similarly, I always check on FB friend requests to make sure they are genuine and not hacks, so don't be offended if I ask you to verify!