Killie Trust Monthly Update - January
Football and Board update
In some ways it's hard to believe that it's only a few weeks since my last report was issued, as so much has happened in that time. We were delighted to welcome Derek McInnes into post as our new manager in early January, following a recruitment process that involved the Board and Head of Football Operations, James Fowler. Derek has been joined by Tony Docherty and Paul Sheerin as his assistants, with former backroom team Paul Stephenson and Alan Maybury departing.
The Manager has immediately made some changes to the squad, using the early part of the transfer window to bring Kyle Lafferty back to Rugby Park, with Ash Taylor also joining, and Daniel McKay and Dylan Tait on loan from Hibs. He has now added Declan Glass from Dundee United and Dean Campbell from Aberdeen on loan deals.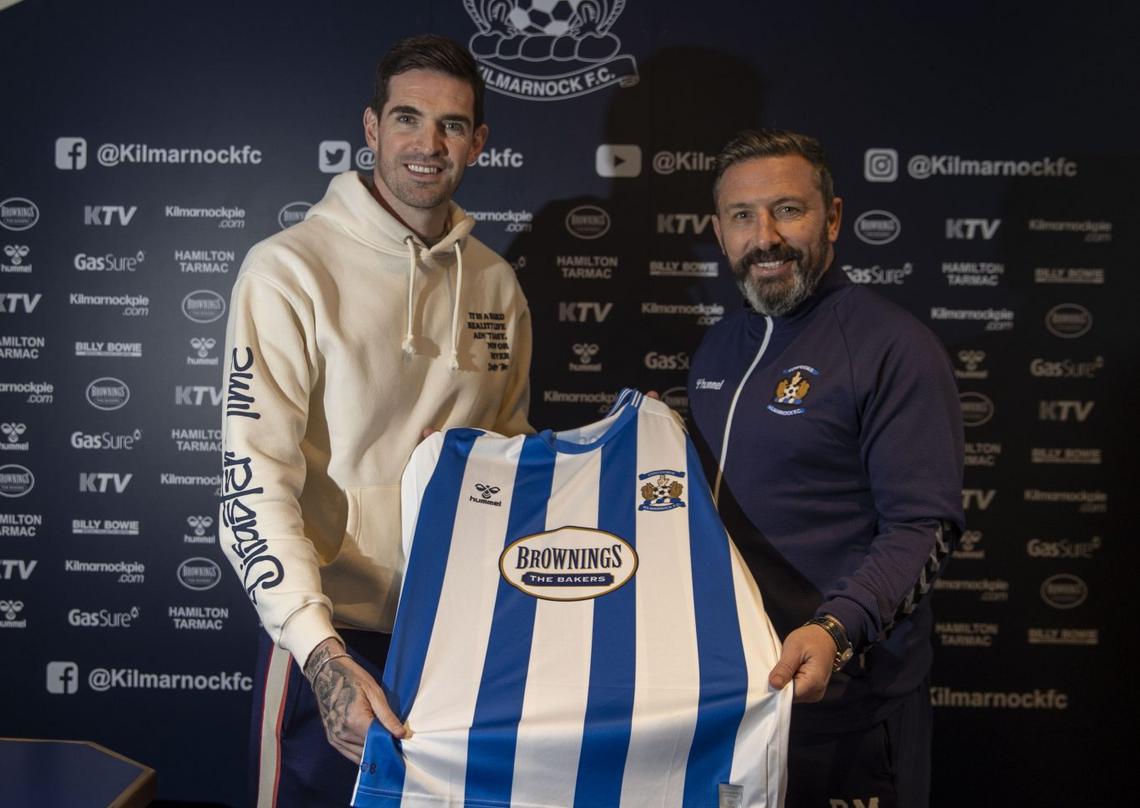 He was also keen to get some of the younger players out on loan for more game time. Current players out on loan are:
Tomas Brindley (Forfar)
Innes Cameron (QoS)
Sean Clark (Gretna)
Kyle Connell (East Fife)
Jon Craig (Stenhousemuir)
Kirk McKnight (Broomhill)
Michael Mullen (Stranraer)
Ross Smith (Stranraer)
Steven Warnock (Forfar)
Returning to KFC from previous loans have been Curtis Lyle, Jon Craig and Justin Devenney. Talks are underway with various clubs which could see a further group of young players go on loan.
Despite losing to Dundee Utd in the Scottish Cup, the performance was much improved and it was good to pick up three points at the home match against Inverness, with Kyle Lafferty on the scoresheet. The week ahead is a busy one with the rescheduled home match against Dunfermline taking place on Saturday 12 Feb, following the derby match at home on Wednesday 9th Feb and Arbroath away on Friday 4th.
The support for our new manager and the team has been tremendous and much appreciated, seeing a positive matchday atmosphere in the stadium. Derek has been very proactive with the media and his pre match Killie TV interviews are being well received.
The next away derby match has been moved to Friday 11th March, and will be shown on TV.
Having fans back in numbers as Covid restrictions have been relaxed has made a big difference and we were pleased that the SPFL agreed to the request to move the derby match to allow that to take place when fans were back in, rather than have another match with limited numbers. I was disappointed that the efforts by Partick, supported by us, were not successful in allowing more fans in for the Firhill match, only a few days ahead of full capacity being allowed for SPFL premiership match.
The Scottish Government announced an allocation of £2.55 million to assist sport deal with the impact of the restrictions, including £1.79 million for football. We have supplied the requested information on the impact of recent restrictions on club finances, but at time of writing we do not have information on how the available funding will be split amongst clubs.
The Club has received some interim payment from Business Interruption Insurance, with proceedings ongoing to finalise the claim.
On the administrative side, the Club is preparing for the Annual Club Licensing Audit, which will involve both desk top work and site visit.
Youth Academy
The Academy is grateful to the Killie Trust for continuing the partnership agreement into second year, with £18,000 having been paid over. I know that Trust members are always keen to have information about the Academy, so some updated information is summarised below.
Reorganisation within the Academy has continued, with some changes of role and recruitment under way for 3 part time coaching positions to fill the gaps.
Key lead coaching roles in place so far are:
16 - 18s: Craig Clark
13 - 15s: James McHarg
11 - 12s: Gary Hastings
The new approach means that while the squads are smaller across the Academy, there is more game time for the players. More effort is being made to improve communication with academy parents, and to make this a better two-way process. The aim is to create an environment in which the young players can enjoy their football, while still being asked to demonstrate high standards and work ethic. Work is also being done to evaluate the recruitment and training ethos, to ensure we can attract and keep the best young players.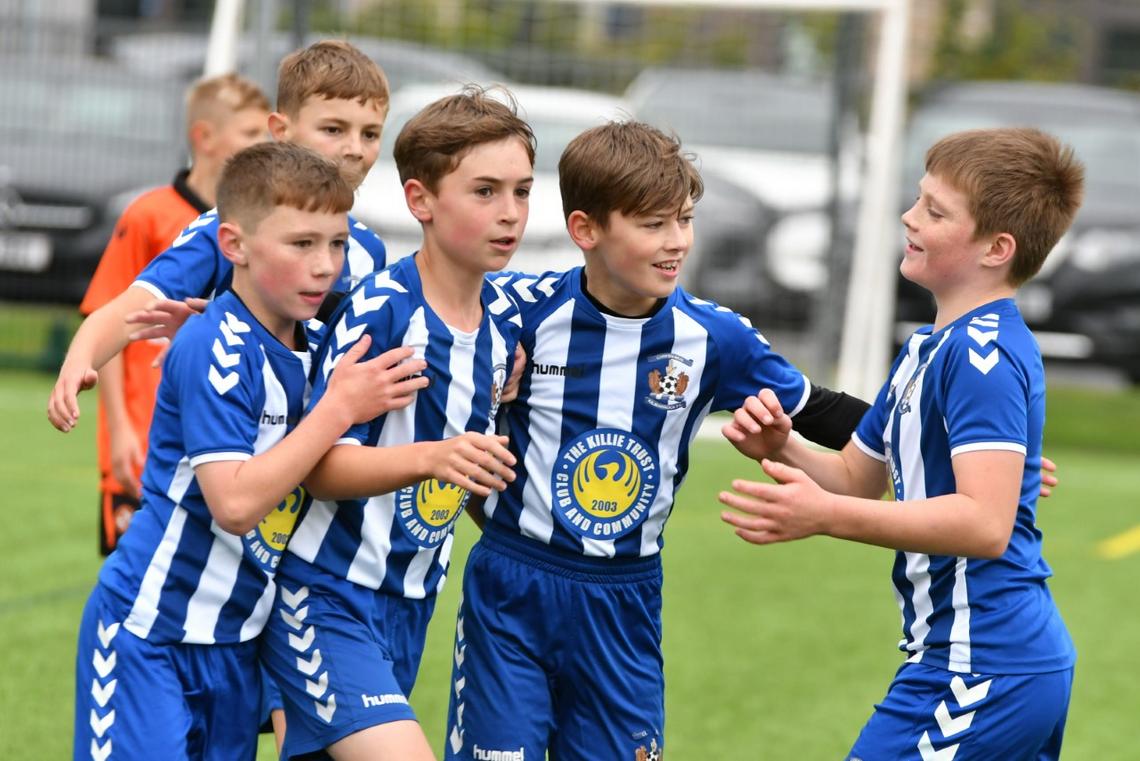 It is never easy when young players are released, and we want to make that as constructive a process as possible so that even if they are not playing for the club, they can still have a positive relationship going forward. Contact has been made with the young players released in December, to ascertain if any further help or support is needed.
James McHarg has delivered the 'School of Football Programme at the William McIlvanney Campus' presentation to players and parents, and is awaiting applications.
The new Progressive academy fixtures commence around weekend of 19/20 February, with a number of friendly matches arranged before then. Full information will be published by the Club and I hope that Trust members will be able to get along to watch the youths in action.

Killie Women's teams
At time of writing, the Killie Women's First Team are sitting in 4th position in the SWPL2, but with some games in hand, behind Dundee Utd, Glasgow Girls and Women and Boroughmuir Thistle. The team have gathered a good following amongst Killie fans, with a Supporters Club being set up, and a number also volunteering to take on roles to help. Upcoming fixtures will be notified on social media and Killie fans are welcome to go along and support!
Discussions are continuing on how best to bring the girls teams under the umbrella of KCST, alongside the youth academy, and how best to support their development. Meanwhile congratulations to the cup winning Killie Girls Under 13s and under 15s Teams who were guests at the match against Inverness. Unfortunately due to the 'red zone' covid restrictions still in operation, they were unable to do a lap of honour, but they still got to show off the trophy!

KCST
Recruitment is underway for the post of Charity Manger for KCST. This role will focus on developing the community side, with activities aimed at a wider age range, and also on raising funds which can benefit young players in the various academy groupings, as well as for wider community activity. KFC Director Phyllis McLeish has been leading on this process, and it is hoped to have the new person in post in the near future.
Meanwhile Community activities are restarting as Covid restrictions have eased. Grant Moore and Daryl Knapp are assisting with pre academy activity to help keep community and academy football closer. The have also been involved in supporting the Killie Kickers, Walking Football, East Ayrshire Midnight leagues and Bonnyton Flyers Disability Football Club, as well as taking Hexagol out to schools and the matchday fanzone.
Commercial
Thanks to fans who have continued to support the club via its commercial operations and outlets. We have now been in control of our retail operations for almost 18 months, and the turnover generated to date has been a massive support to the club during this pandemic.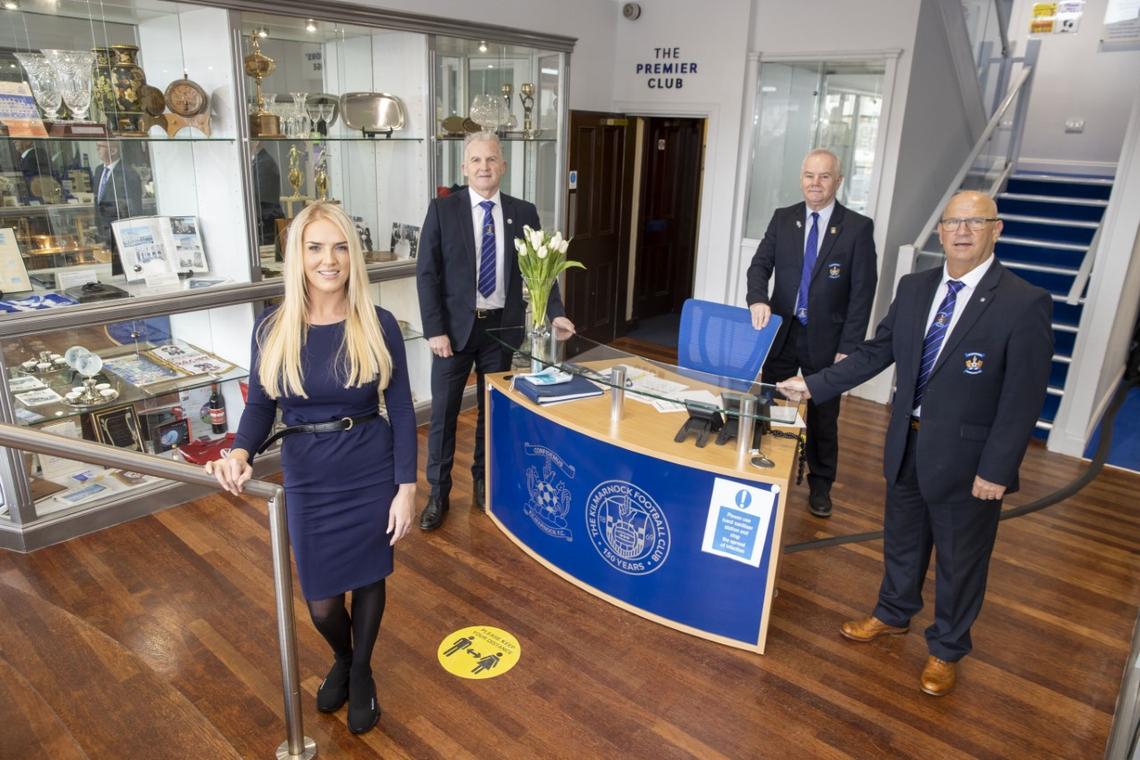 (KFC Hospitality team: Emma Wyper, Raymond Montgomerie, John Livingston, Jim Cockburn)
Key points to note on retail and hospitality:
The Killie Superstore Sale is now on with up to 25% off this season kits, so it's a good opportunity to grab your favourite shirt whilst stocks last!

The Killie LTD line has sold out of thelast re-stock run, with more sizes coming back in stock very soon.

Some new additions will be coming soon for Easter and Mother's Day.

The Killie Retro line is due to return very soon, so keep you're eyes on social media channels for some exciting new products launching soon. Loyalty Season ticket holders should all have received their 'New Yorker' tops by now, but I am aware there were a few issues for a small number of fans, so any problems please get in touch so that it can be resolved.

Matchday Hospitality is selling out fast for the run up to the end of the season, so please book now to avoid disappointment if you are looking for spaces.

Our Ladies Day on 5th March (when we take on Hamilton) has very limited space available, and with Edward Reid, Jane McCarry and Feeva performing, it should be a great day and evening.

We will be trialling an open bar and live music session ahead of our Dunfermline match on 12/02/22 and we're bringing back the popular Curry Night for the Challenge Cup match with Raith on 02/03/22.

The Club's Annual Golf Day Returns late March 2022 and we're delighted that this has already sold out.

Our matchday catering options in the kiosks have continued to do well with record sales, and it is planned to introduce more products over the coming months. I am aware that there have been a few issues with a couple of the outlets, but these were picked up and hopefully resolved.
We are looking forward to the new Killie Forever Museum Space, which will be adjacent to the Killie Superstore, and should be completed in March 2022. Having seen the work taking place on this I'm sure it's going to be a great addition to the stadium facility for fans.
Media
The Club was pleased to welcome Scott Symington as our Videographer. He was very quickly called upon to get involved in match day. Here's his footage of Rory McKenzie's goal v Dundee United - https://www.youtube.com/watch?v=ZCvcqMTjXWk
Social media coverage continues to be positive with
Derek McInnes announcement tweet 736,543 impressions
Kyle Lafferty announcement 408,000 impressions
YouTube views up 27% with peak around Derek McInnes' first interview
The January edition of the Killie Magazine was published, including interviews with new signings Ash Taylor and Daniel MacKay.
In depth features were also published with Head of Academy Paul Di Giacomo (website) and Derek McInnes (magazine)

In addition to first team coverage, the U18s https://kilmarnockfc.co.uk/news/u18s-browns-on-the-ball-as-year-starts-with-win/ and KWFC https://kilmarnockfc.co.uk/news/swpl2-kilmarnock-1-4-st-johnstone/ were featured as they returned to action for first time in 2022
I also did an interview with Graham Spiers which was featured in the Times following the announcement on Derek McInnes, and the Football Show on Go Radio, talking about the importance of having fans back in stadiums.
It was amazing to see 'the Unlikely Lads' from Centrestage on TV and social media performing Paper Roses! We are in discussion with Centrestage about having them along at a match at some point in near future!
Child Protection and Welfare
The group is now meeting regularly with Charlie Adams(Child Welfare and Protection Officer), Head of Youth Academy and the supporters and academy parents with professional expertise who have volunteered their time. So far, the focus has been on ensuring we can improve the way we deal with young players, particularly those who move on from the club, and promote positive mental health and wellbeing. In future meetings we want to look more widely at how the Club takes account of best interests of children and young people across our operations and how to engage them more actively in the club.
Killie Trust update
Yet another busy month for the Trust included
regular monthly Board meeting
an additional strategy session for Trust Board
Online meeting for new members with myself and Trust Chair
Killie Trust AGM.
A minute from the AGM will be circulated to members in due course but some key points are summarised below:
Chair Jim Thomson gave a report on the work of the Trust in the past year, latest membership and Tik figures, and the various projects which Trust had been involved in, including stadium clean ups, fundraising, partnership with youth academy, launch of goal keeping academy, On Board in Person events and other volunteering activity, within the limits of `Covid restrictions.
Election to the Trust Board were announced, with those members standing for re-election duly re-elected. Robert Foster was elected as a new Board member, bringing experience from third sector and charity boards.
Members of the Trust Board are:
Chair: Jim Thomson
Secretary: Andy Millar
Treasurer: Blair Millar
Trust Club Director: Cathy Jamieson
Directors: Martin Boyle
Katie Faulds
Robert Foster
Stuart Gilmour
Gordon Jones
Gemma Milligan
James Morrison
Blair Millar gave the financial report noting a further sum of £40k was to be transferred to the club, in addition to the £18k for youth academy.
James Morrison spoke to the paper which had been made available to members on future Trust KFC Board Elections. The proposal was approved, meaning that we now have a set of rules and a process for future elections, as well as a job description for the role. The Trust Chair and I have discussed this and had agreement from the other KFC Directors. Key points in the proposal relate to the length of membership of the Trust and Trust Board involvement in order to stand for election, and that, in line with best practice, there will be time limited terms of office, where no more than 6 years (2 three-year terms) would be served.
Gordon Jones gave a short presentation on our Very Connect 'membership community' platform which the Trust is now using and members are encouraged to update their details so that the Trust can have information on interests and expertise.
Martin Boyle gave a short presentation on the work he has been doing to help create a future strategy for the Trust. Once the draft document is completed, it is planned to make it available to Trust members and have focus groups to discuss further.
I gave an update from the Club, including plans for the club AGM, which it is hope will be in February (subject to auditors completing their work) and explaining the process used for recruiting the manager.
In response to a question on membership of the club board, I replied that the Directors were always open to possibility of new investors who shared the Clubs values and best interests. However, it would not be the case that anyone with £100k could necessarily buy a seat on the Board as I understood that this amount had been an agreement with the Trust, on basis that the Trust would be continuing to invest. I also gave information on how the Board operates with each Director effectively having one vote, irrespective of the shares held, which gives the Trust significant influence in the current set up.
In response to an issue raised at the AGM about traffic management and safety of pedestrians exiting after matches, I have been in touch with the Club Safety Officer. A number of fans subsequently contacted me about the issue and I will give a further update when I have additional information.
I was pleased to be able to host Richie and Ricky Boyle in the Boardroom for the cup tie against Dundee Utd as latest TiK draw winners. As well as taking in the match, they had the opportunity to chat with Billy Bowie and Phyllis McLeish. Scott Thomson and Gary Poli won an additional draw for tickets for this match, and were each able to take a guest along.

Future events:
We are looking for a date in March, which suits the manager, for our next 'On Board In Person' event. I will also continue to have online new members calls with Trust Chair where we can explain more about the work of the Trust and relationship with the Club.
I also plan to set up regular online open forums where Trust members can join to speak in more detail about issues in my written report and ask questions /raise issues. Details of these events will be circulated by the Trust, so please do sign in to our membership community (Very Connect) to ensure you get all the info. If anyone has queries or issues with the system, Gordon Jones is happy to advise.
Last but definitely not least
It was with great sadness that we heard of the untimely passing of Warren Graham, known to all as the Killie Piper. It was very moving to see the tributes paid by fans with applause during the match and the lone piper playing at half time. Our condolences go to his family and friends.
With the stresses and strains of modern life often impacting on people in ways which can be unseen, we should all be looking out for one another, providing support and understanding wherever possible.
Football can be a force for good by giving people a connection in their community and a common bond where friendships can be made across cultures, creeds and generations. We are at our best when we come together as the Killie family, so please just think about how we can provide a positive, supportive environment for all, but especially our young people, some of whom may be carrying burdens we know nothing about.
---
Contacts:

I can be contacted in a number of ways:

Email : [email protected]
Twitter: @cathyjamieson
Instagram: cathyjamiesonkillie
Facebook: cathy jamieson

While I am happy to engage on social media when I can, I'm sure members will understand that I am not monitoring that round the clock, so may not be able to instantly reply, and an email to me is often a better way of dealing with more complex issues.
Trust members can contact us via email at - [email protected].

Supporters Liaison Officer Allen Kyle is also happy to deal with queries from fans and he will let me know of any issues that need to be raised at Board level, so please use the channels we are making available!