After last month's lengthy update which covered the club AGM as well as the usual issues, this month's report is perhaps thankfully shorter and sharper!
Football And Board Update
On the first team football front, we are sitting 4 points clear at the top of the league with 3 tricky matches to go in the run in. After a difficult match against Morton, it was pleasing to see a much improved performance against Dunfermline to take the three points.
However, it was disappointing news for Scott Robinson whose injury means he is out until end of the season. We have had a few other injuries to contend with, but the squad has adapted well.
Well deserved awards have gone to Derek McInnes, as Championship Manager of the Month, and Kyle Lafferty as Championship Player of the Month.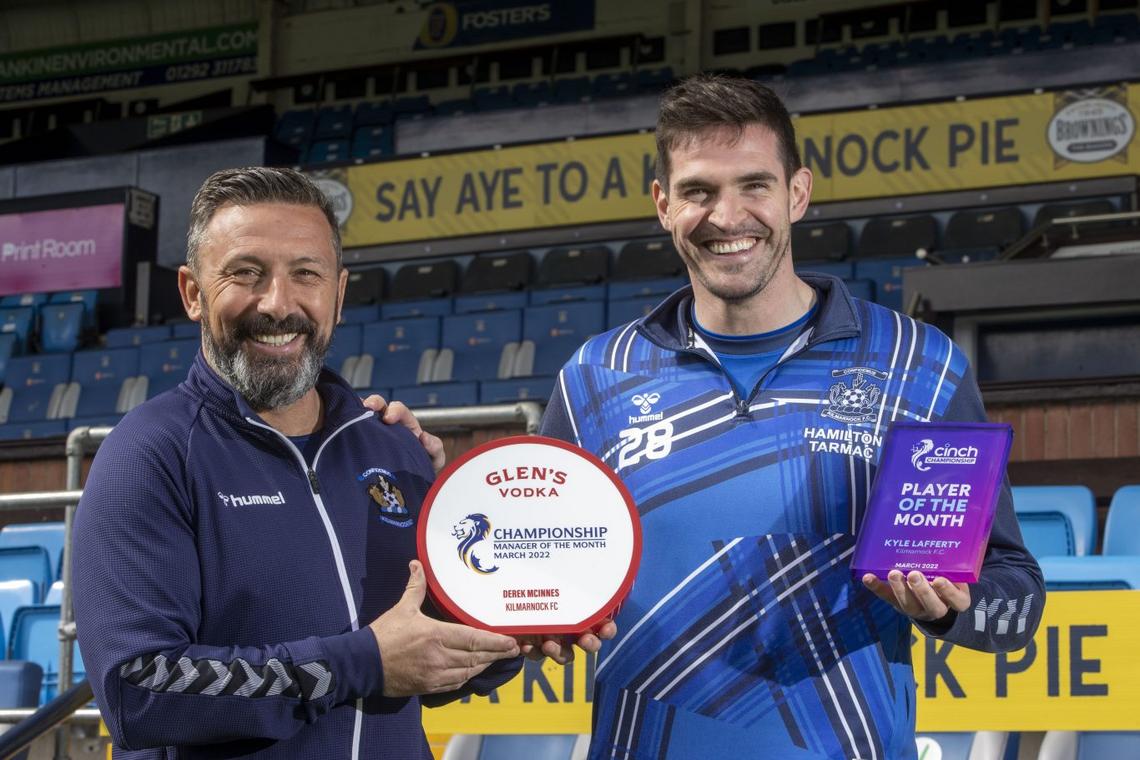 Despite Covid restrictions again being eased, we are still taking precautions within the stadium as there have been various members of staff affected and consequently, the match day red zone is still in operation meaning we have continued to limit 'on pitch' activity on match days.
Trust members will be aware that there is due to be a vote amongst SPFL clubs regarding the introduction of VAR. KFC Directors will be taking account the views of the Manager and Football Department as well as considering the impact for fans and the club more generally. This is an issue which does evoke strong views and whatever is decided will not please everyone!
Commercial
The new Season Ticket packages have been worked on and are in process of being finalised and account has been taken of various comments and suggestions made over the course of the season. We appreciate that this will be a later announcement than usual but I'm sure fans will understand the reasons for that, with key matches still to take place.
Retro Shirts back in stock, instore and online, and this season's home and away shirts are available at a special price in the sale.
The Club Golf Day 2022 was a great success with over 80 participants. Callum Waters lifting the 'Colin Campbell Player of the Tournament' Trophy. Over £2k was raised for our charity partners, Crosshouse Childrens Fund.
The well attended Ladies Day raised funds for KCST
A promotion giving 20% off the price of a ticket for the Arbroath match is available for all those those who purchased one for the Dunfermline match. The discount is also available to any Season Ticket holders who want to buy an additional ticket for family or friends for the Arbroath match, and we hope that this will help see a good turnout.
After the past couple of seasons when we were only able to have shirt sponsors collect their shirts from the stadium due to covid, we are currently looking at how best to organise an event for this seasons shirt sponsors.
The Club Player of the Year and Hall of Fame Induction event will take place at the end of the month and the Killie Trust will be involved as Youth Academy partner.
As a special treat for our junior fans, the Captain Conker Book, will go on sale on today (15thApril 2022)
Stadium Developments
The latest development at the stadium saw the opening of the Killie Forever Museum. This was attended by various corporate sponsors, including Jim Thomson and James Morrison on behalf of the Killie Trust. The evening included a Q&A with stars from the 1997 & 2012 Cup wins.
The Museum will be open to the public in the summer of 2022, with more information to follow.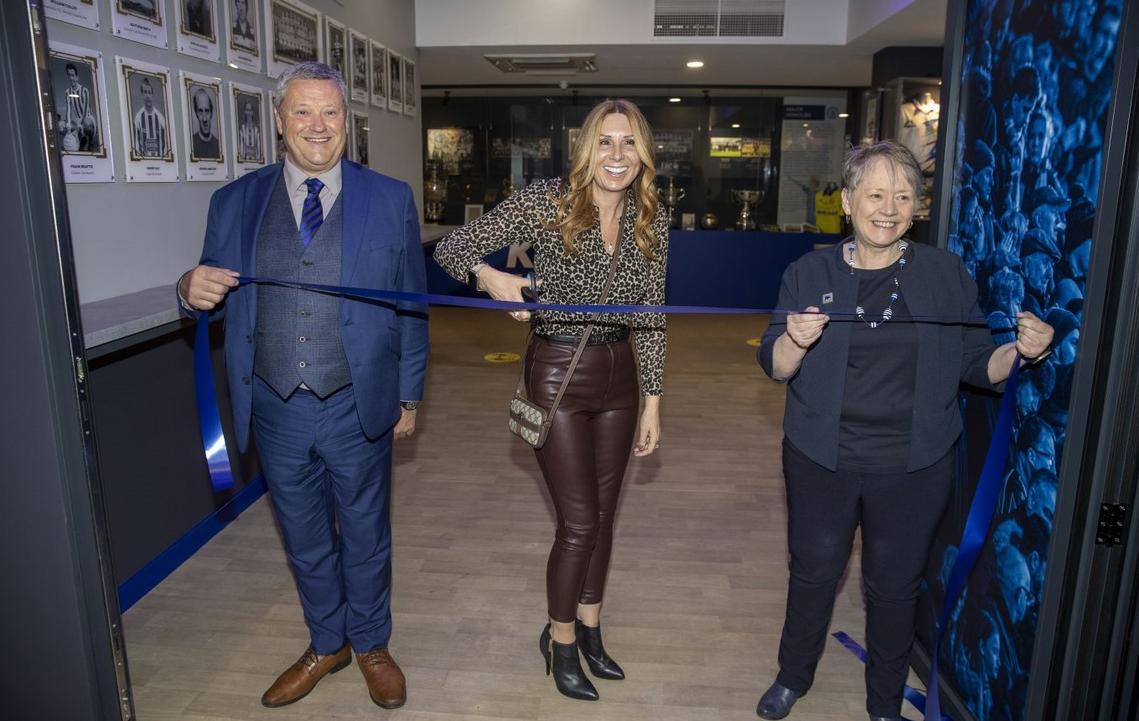 The Museum will be open to the public in the summer of 2022, with more information to come.
Media and Communications
It's been another busy period for the media team with wide coverage of the double awards for Derek McInnes and Kyle Lafferty as well as the Ayrshire Derby win, including celebration videos. Other areas highlighted included -
Every match of the run in will be live on Killie TV and also the new edition of Killie Magazine is out now - https://kilmarnockfc.co.uk/news/inside-your-april-killie-magazine/ As always, it is packed full of interesting articles and information about the club, as well as our opponents in upcoming matches.
Kilmarnock FC Women
Work is still being undertaken both internally in the Club and with SPFL regarding the new set up for the women's senior matches next season. Unfortunately, despite best efforts, results have not all gone the way we would have hoped and, at time of writing, the women's team is currently sitting in 4th place with 4 matches to go.
A special thanks goes to the small but vocal band of Killie fans who have cheered on the team at home matches and formed a supporters group, as well as volunteering their help on match days. Their next three matches are at home, starting on Sunday with a 2pm kick off, so if you can, go along and cheer them on.
Kilmarnock FC Youth Academy
As part of ongoing efforts to improve communications within the Academy, an informal meeting was held with academy parents to give an opportunity for them to speak with and get to know coaches.
Going forward, the plan is to have two informal parents' nights in September & March with formal parents' nights in June & December.
Paul Di Giacomo is in discussion with Ayrshire College regarding utilising the facilities there with some modifications to meet requirements of Club Academy Scotland.
Billy Bowie has donated an 8-seater Mini Van to the Academy for use for staff and players for away matches and this was a massive help for recent trips to Perth and Dingwall.
The schools programme at William McIlvanney Campus has been paused for this summer's intake due to fewer numbers of players applying. Dundee and Hearts paused their school programme last year due to Covid and have taken an intake this year, so this is not an unusual thing to do.
Paul di Giacomo is meeting SFA Officials with James Fowler and Phyllis McLeish to discuss the detail of the new Progressive Criteria for season 2023-2026.
Following a suggestion from Killie Trust members at the monthly Open Forum, a weekly email has been sent out to members giving information about the Academy fixtures. While the older Academy match scores are publicised on social media, Academy coaches did not feel it was helpful to do this with the younger age groups, so this is not routinely publicly reported.

Kilmarnock Community Sports Trust (KCST)
KCST activities are continuing for children and young people both in schools and throughout the community. The annual Easter Camp is currently underway in partnership with Cash for Kids and Ayrshire College, which will see the club work with over 300 local young people, providing them with free footballing activities and a healthy snack during the Easter Holidays.

New Charity Manager, Jordan Allison, sat down with Killie TV to discuss the exciting plans ahead for KCST: https://kilmarnockfc.co.uk/news/meet-our-new-kcst-charity-manager-jordan-allison/. Jordan joins the club from Show Racism the Red Card, where he was Campaign Manager.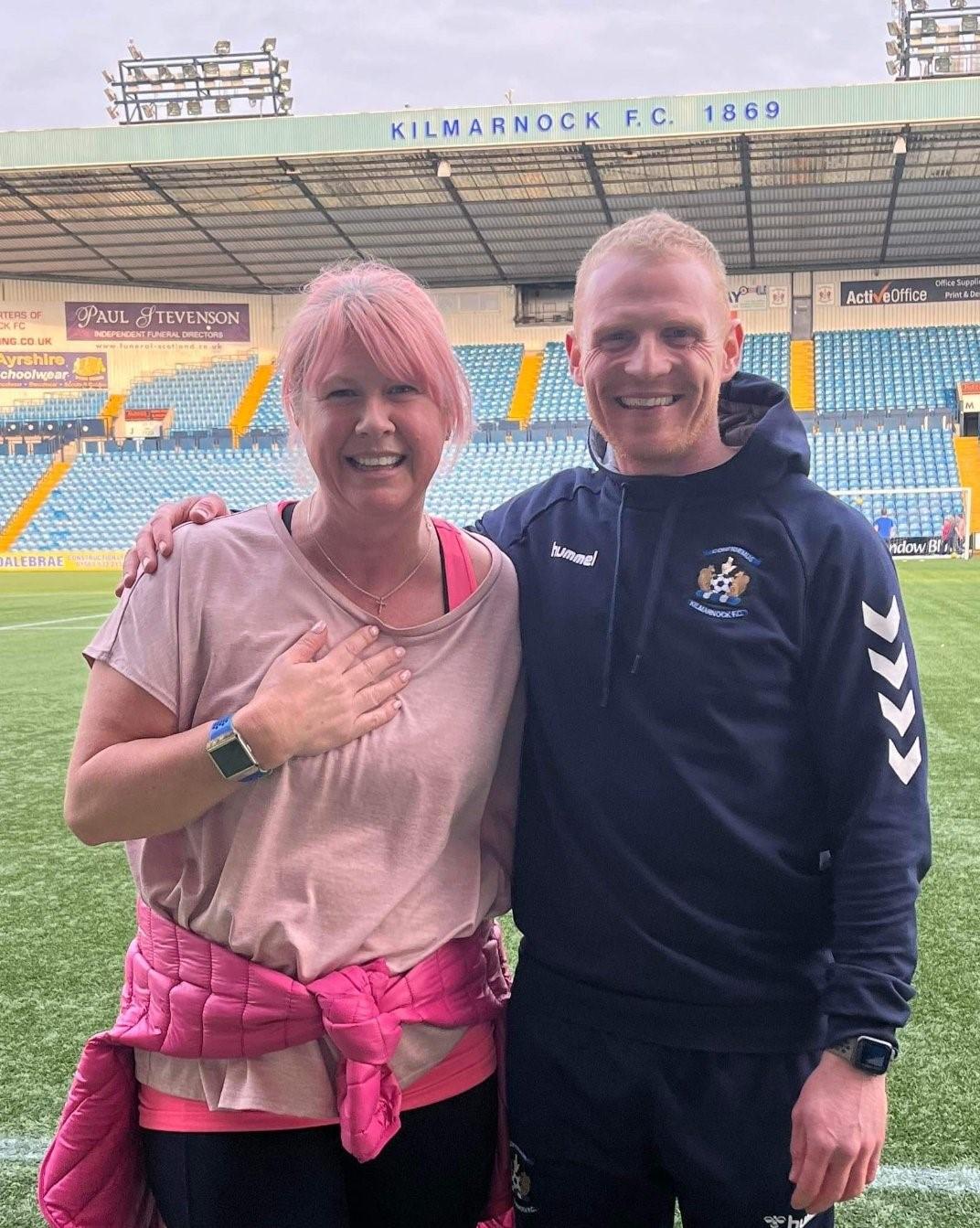 The long-awaited Weigh To Go class for women has started and has been well received with participants receiving a surprise visit from Chris Burke on day 1.

Club legend Ross Mathie has launched KCST's Football Memories programme along with a weekly drop-in session to tackle loneliness and isolation.

The Rugby Park Street Pitch is back, encouraging young people in the Moffat Stand to join fun pre-match and half-time football sessions led by KCST coaches.

Thanks to sponsors Hamilton Tarmac for donating a fantastic prize: KCST is running a raffle for a kids mini Land Rover, decked out in club colours. The winning child will have the chance to drive out to present the match ball for kick-off at the Arbroath match, live on BBC Scotland. Don't miss the chance to enter: https://kilmarnockfc.co.uk/news/win-a-mini-killie-land-rover-and-matchday-experience/

Another opportunity to support KCST is by joining the Killie Strollers to take on the Kiltwalk on Sunday 24 April. Sign-up here: https://kilmarnockfc.co.uk/news/join-the-killie-strollers-at-the-kiltwalk/

Child Protection and Wellbeing
The most recent meeting of the group discussed a number of suggestions to improve processes around safeguarding and also fed in information to the Club Secretary for the Club Licensing Audit, as well as receiving updates from the KCST / Youth Academy and girls child wellbeing and protection officers.
Should anyone have concerns about child protection and wellbeing at the club, the CWPO can be contacted directly [email protected]

Killie Trust update
The Killie Trust Board held its monthly business meeting with discussions on current and future projects. It was noted that more members have now logged in to the VeryConnect platform, and the Trust Board was encouraging every member to do this in order to create quicker and easier communications.

The platform is now being used to send out more regular emails to members, giving financial updates, information about youth academy and events etc, rather than relying on monthly updates, which will hopefully be useful for members.

We held the second of our online Open Forum sessions for Trust members and again some helpful suggestions were made on ticketing and other issues which have been fed back. These online events are allowing members from further afield to play an active role which is great!

It is planned to hold an online event specifically for women members and more details will be circulated shortly.

Both the Club and the Trust are very conscious of the impact of current cost of living increases and the potential impact on supporters. In recent seasons, we have had generous donations through various channels which has allowed season tickets to be given to fans whose circumstances mean they could not afford the full cost on their own.

Feedback from various sources has suggested that with a coordinated effort, we could reach more fans and I therefore plan to bring together the various people who have been involved in initiatives in the past, so that we can hopefully have one focussed effort.

Unfortunately, due to unforeseen circumstances, we had to postpone the 'On Board in Person' event with Manager Derek McInnes. He is keen to find another date but given the importance of the next few weeks matches, and the need for that to be priority, the Trust Chair and I felt that it would be better to leave this until a more suitable date can be found.

It was a pleasure to host Trust monthly draw winner Campbell Allen and his young daughter Reiss at the match against Queen of the South, and I look forward to seeing Chris Thornton and his dad Thomas in the Boardroom at the Arbroath match.

Another excellent development from the Trust working with KFCDSA and local Hospital radio volunteers is the facility for visually impaired fans to have an audio commentary at matches.

KFCSA is holding a 'bonus ball' raffle to win a match ball from the 2012 Cup Final. There are still some numbers left but be quick or you might miss out! Contact KFCSA Committee members or Allen Kyle for details or you can find the link on KFCSA Facebook and Twitter.

Great work by Martin Wall who runs the 2Clubs1Love podcast (give it a listen if you haven't already! @salopiankillie) who organised a raffle which raised £500 to help Ukrainian refugees. The cash is being given to the Scottish Refugee Council. Thanks to all the fans who took part and the local businesses who donated prizes.

I met with a representative from East Ayrshire Vibrant Communities to discuss how we can offer volunteering opportunities for some young people who are asylum seekers living locally and will be following this up further.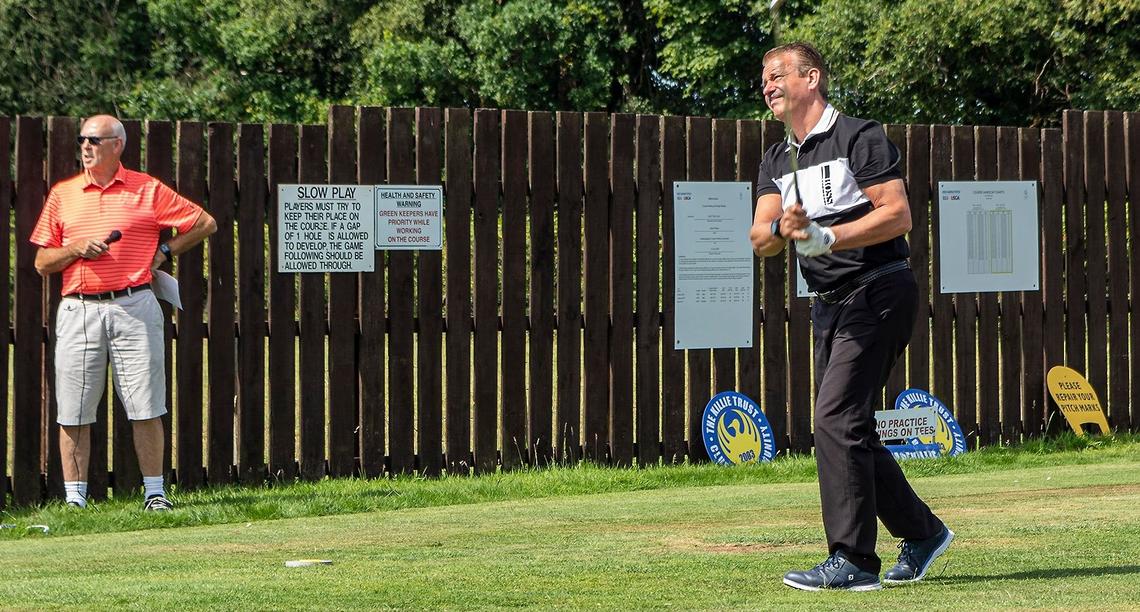 There is still time to enter a team into the Trust's Golf Day at Ballochmyle Golf Club on Friday 27 May.
Your team of three will be 'captained' by a legendary former Killie player from the following pool - John Bourke, Sam McGivern, Paul Clarke, Derrick McDicken, Jim Stewart, Iain McCulloch, Tom Black, Gordon Smith, Alan Robertson, Hugh Burns, Jim Clark, Robert Reilly, Garry Hay and George Maxwell.....with more legends to be announced soon!
Get more info and an entry form by by emailing -

[email protected]

Any thoughts on future reports?
With more information now being sent out by the Trust via emails to members, and also increased social media output, I am keen to know if members are finding these reports useful and if there is other information which you would like to see included, or if a different format would be useful.
Please drop me an email with any suggestions.
Killie Trust Membership
And for anyone reading this who is not yet a Trust member, please do sign up! It is £10 per year for membership, which helps with the general running and administration of the Trust, and there are options to donate to Trust in Killie, which allows the Trust to invest in the Club in return for shares.
https://www.thekillietrust.com/join-the-trust
Contacts:
I can be contacted in a number of ways:
Email: [email protected]
Twitter: @cathyjamieson
Instagram: cathyjamiesonkillie
Facebook: cathy jamieson

While I am happy to engage on social media when I can, I'm sure members will understand that I am not monitoring that round the clock, so may not be able to instantly reply, and an email to me is often a better way of dealing with more complex issues.
Supporters Liaison Officer Allen Kyle can be contacted by email [email protected]
I am in contact with him on a regular basis to discuss issues which have been brought to him and may need raised with the Club Board.