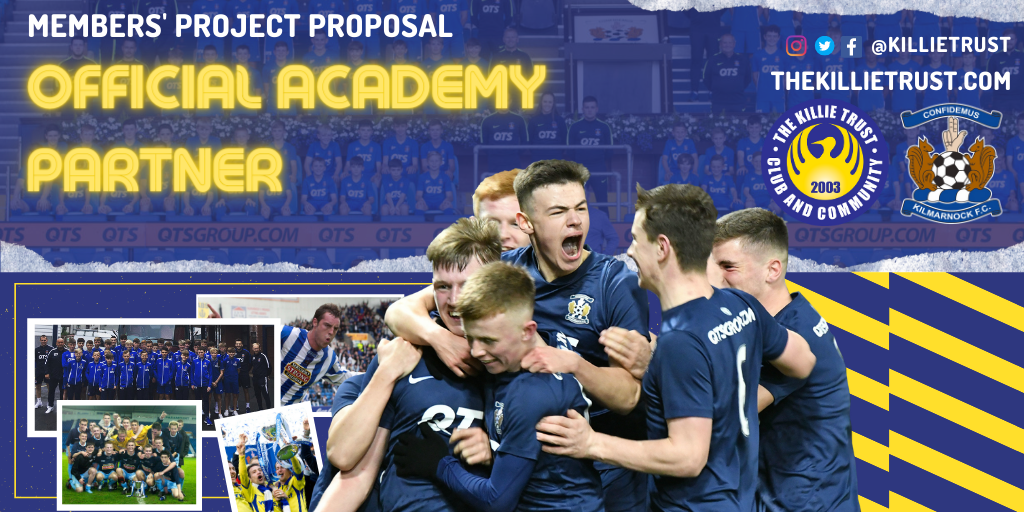 On Monday 7th September 2020, we are delighted to propose a new project for members' consideration, using 'Trust In Killie' funds.
The Kilmarnock FC Academy plays a key role in the Football Club and a partnership will further strengthen the role of The Killie Trust.

In the words of the Killie Trust mission statement, we aim, with members' and subscribers' backing, "to promote, develop and support Kilmarnock FC and sport in the community".
THE PROPOSAL:
Official Academy Partner for seasons 2020/21 and 2021/22
Annual fee: £18,000
Total cost: £36,000

Academy Partner entitlements
Designation as 'Official Club Partner'
Trust logo on front of all Academy playing and training kits
Banner advertising at Rugby Park
Prime Advertising on Killie TV for Academy content
Advertising on Club Website
2 Branded photocalls with players each season
50 match tickets for distribution during each season

In line with the rules of 'Trust In Killie' spending, Trust members receive one vote each, with a 'yes' or 'no' decision on whether or not to back the proposal to become the official partner of the Kilmarnock FC Youth Academy. The vote will remain open until 22:00 on Friday, with the ballot result confirmed early in the week commencing 14th September 2020.