Football and Board update
With 8 matches to play, we are sitting in second place in Championship, with everything to play for in what will be a tough run in. While it was disappointing to go out of the Cup, most fans seem to share the view that league is more important and that's where every effort must be made. Hopefully the team can build on last weekend's victory against Hamilton and that we see the return of some of the players who have been out through injury.
Liam Polwarth has joined Dunfermline on loan till end of season, and under 18 youth player Jamie Kirkpatrick has gone on loan to Kilwinning Rangers.
With a number of the Covid restrictions lifting, we have been able to ease some of the measures put in place around the stadium, but as fans will have noticed, there is still a red zone on match days, with arrangements still in place internally to try and limit spread of the virus.
In last month's report I noted that we were awaiting information on how much the Club would receive from the Scottish Government's £2.55million fund for sport impacted by Covid restrictions from 26 Dec 2021 to 15 Jan 2022.
The total amount available to football was £1.79millions and KFC was awarded a grant of £50,000. In line with other championship clubs, we also received a solidarity payment of £12,000.
Kilmarnock FC AGM
As members will be aware, it had been hoped to have the Club AGM in February, but this was delayed due to illness of auditor. I took the decision to hold back completing this monthly report so that I could include an update from the AGM which took place on Tuesday 8 March. In order to avoid duplication, I've included some of the detailed information given at AGM in the later sections of my update, with the key areas summarised below:
Company Secretary Graeme Bryson spoke to the annual accounts, noting that while these showed profit, it was important to understand the underlying figures, and how the accounting treatment of the Scottish Government Covid loan had impacted on way figures were presented in accounts. He provided information on a number of points on which questions had been submitted, around business interruption insurance, player wage budget, income from tickets sales and crowd numbers.
Crowd numbers had inevitably been influenced by Covid, but the support from fans in buying season tickets was recognised and appreciated. Noted also that Directors had committed further funds in excess of £400k, and that the Trust had invested regularly, as well as leading the successful campaign to raise funds to pay for SPFL sanctions and appeal.
Phyllis McLeish spoke to the Commercial Review giving information about retail and other sources of income for the Club. Noted that the 3 year target for retail had been met within 18 months, again thanks to support from fans. The new merchandise ranges had proved popular, as had retro shirts, with more on the way to celebrate 25th anniversary of Scottish Cup win. She also updated on commercial partnerships/sponsorships and thanked all who have taken hospitality and supported the club through advertising boards and other sponsorships.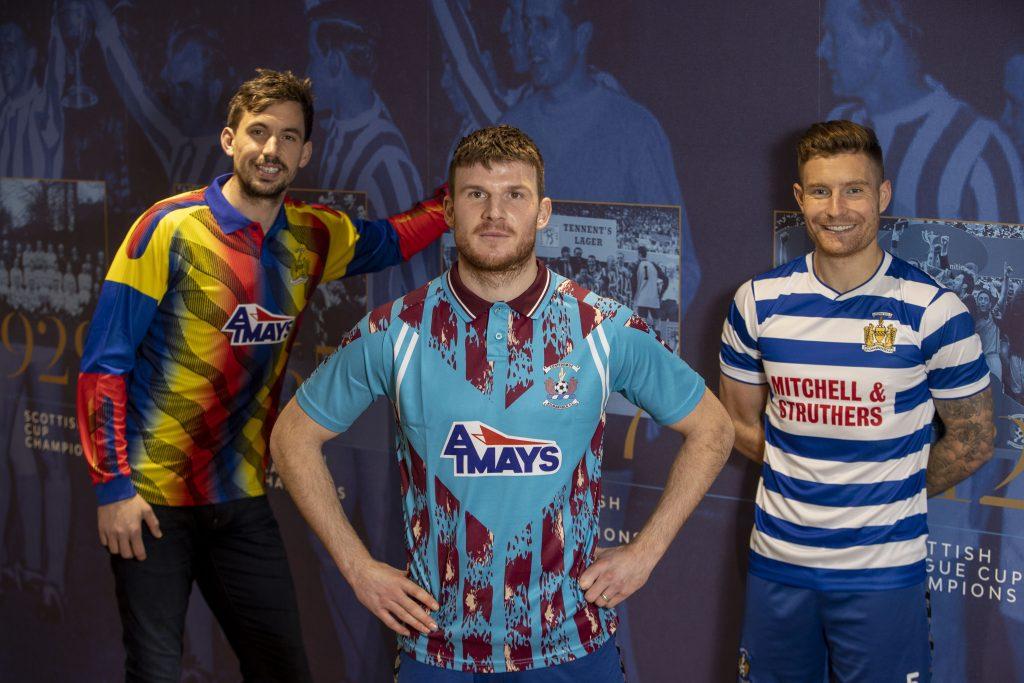 In response to a question it was confirmed that the Club is not looking at reducing the admission charge to £5 for any upcoming matches, having taken account of the present financial circumstances and the fact that the recent replay against Dunfermline had been made free for those who had attended the original match.
Billy Bowie spoke to the review of Stadium and Infrastructure developments (additional details in relevant section below) explaining future plans for the portacabins at rear of Moffat stand, which will commence in spring 2022, and additional work on the players' lounge which will also be used by players families on match days. Noted that the new superstore facility had been well received and that museum space is nearing completion, with plans for a special exhibition to commemorate Cup wins.
I then spoke to the Fan and Engagement Review, updating on Killie Trust membership and activities, highlighting the increase in Trust membership up by over 300 since last Club AGM, and the increase in TiK subscribers which sees around £7800 brought in each month. Noted that the Trust had invested £87k via TiK since last AGM, and had agreed a 2 year partnership with Youth Academy. Also noted work done by volunteers, by SLO and by the newly set up Child Protection and Wellbeing Committee, as well as working with KCST on fundraising.
I also updated on Media and Comms and introduced a Video on our Charity Partner Crosshouse Childrens Fund.
Developments on the Football side were spoken to by Head of Youth Academy Paul di Giacomo, Head of Football Operations James Fowler and manager Derek McInnes.
Paul di Giacomo updated on the changes in Academy set up and the aim of bringing more youth through into the first team, while ensuring that those players who didn't complete that pathway would leave the club having had a good experience and hopefully with a positive destination.
James Fowler also talked about the player pathway and importance of bringing through youth, getting a better balance of young and more experienced players, and ensuring we do not have situations where too many players are out of contract at same time, as has happened before.
Derek McInnes talked about his time at the club so far, noting that it had been welcoming and that there are good people around trying to make things happen, with support from the Board. He spoke about his desire to ensure high standards across everything in the football side, and the need to have the ambition to work harder and be better than opponents, as success in the league would not be handed to Killie. He also noted that there is more work to be done in the summer, but he has the belief that we can be successful and he is committed to driving that.
Commercial
Retail
Retail turnover has continued to be strong, with the target not only met but exceeded.
Shirt sale figures over the range of home, away and third have seen 3,616 units sold
Killie LTD Range has now surpassed 2,000 units sold
The Blue Brick campaign have sold over 1000 units, generating a good income for the club
The retro range has sold over 1000 items, and been further enhanced with the introduction of the 90s collection, with also plans in process for commemorating the Scottish Cup and League Cup win anniversaries in 2022
Season Tickets
Final season ticket sales for 2021/22 season totalled 4018, which includes
Adults 1684 (up from 1238 in 20/21)
Over 65 756 (up from 646)
Student 121 (up from 99)
U21 104 (up from 63)
U16 606 (up from 376)
Moffat family 104 (up from 63)
DSA. 131 (up from 121)
Half Season Tickets sales were greater than in previous seasons in our recent history, with 142 taken up.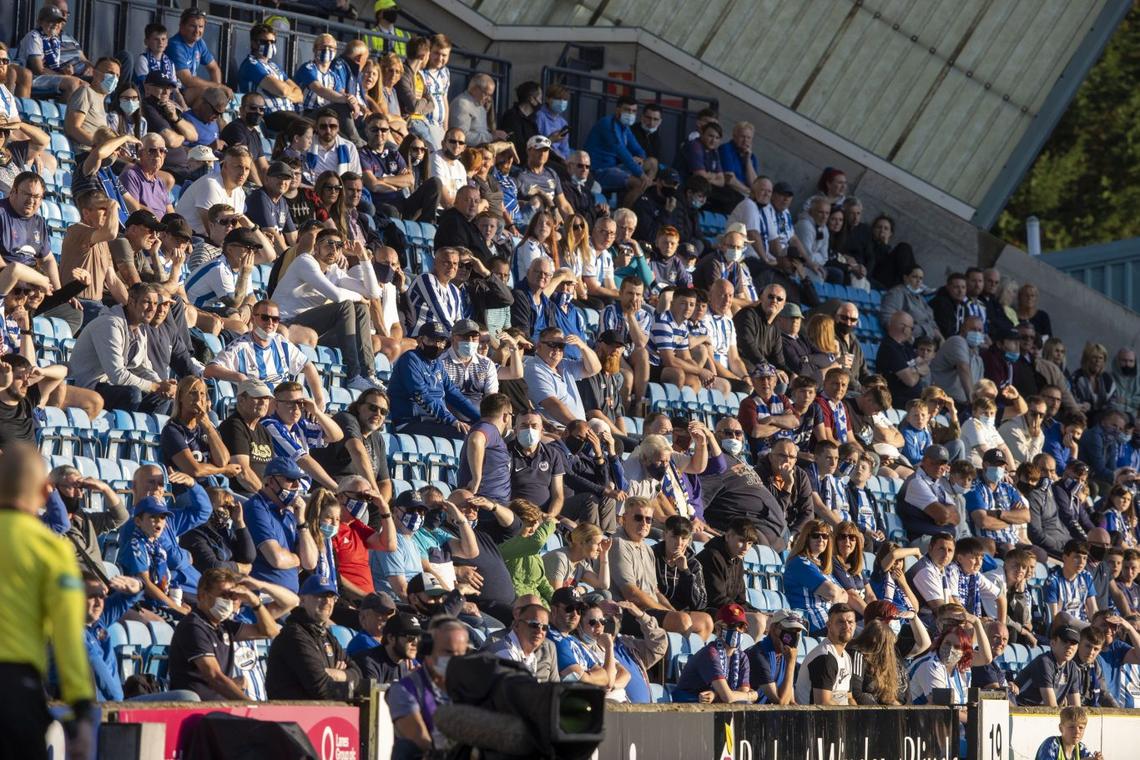 Additional Revenue
PPV Sales to date remain strong with Dundee United in the Scottish Cup eclipsing every other match this season.
Despite some early teething problems to iron out, Stadium Kiosk Catering relationship with DEC is going well in terms of takings.
Stadium Developments
After delays due to supply issues, glass has now been installed in the wheelchair viewing platform and the final parts of the development are taking place.
The next phase of work on the portacabins at rear of Moffat stand has been in planning and will take place in spring / summer. This will see the creation of office space, and a dedicated family friendly hospitality area.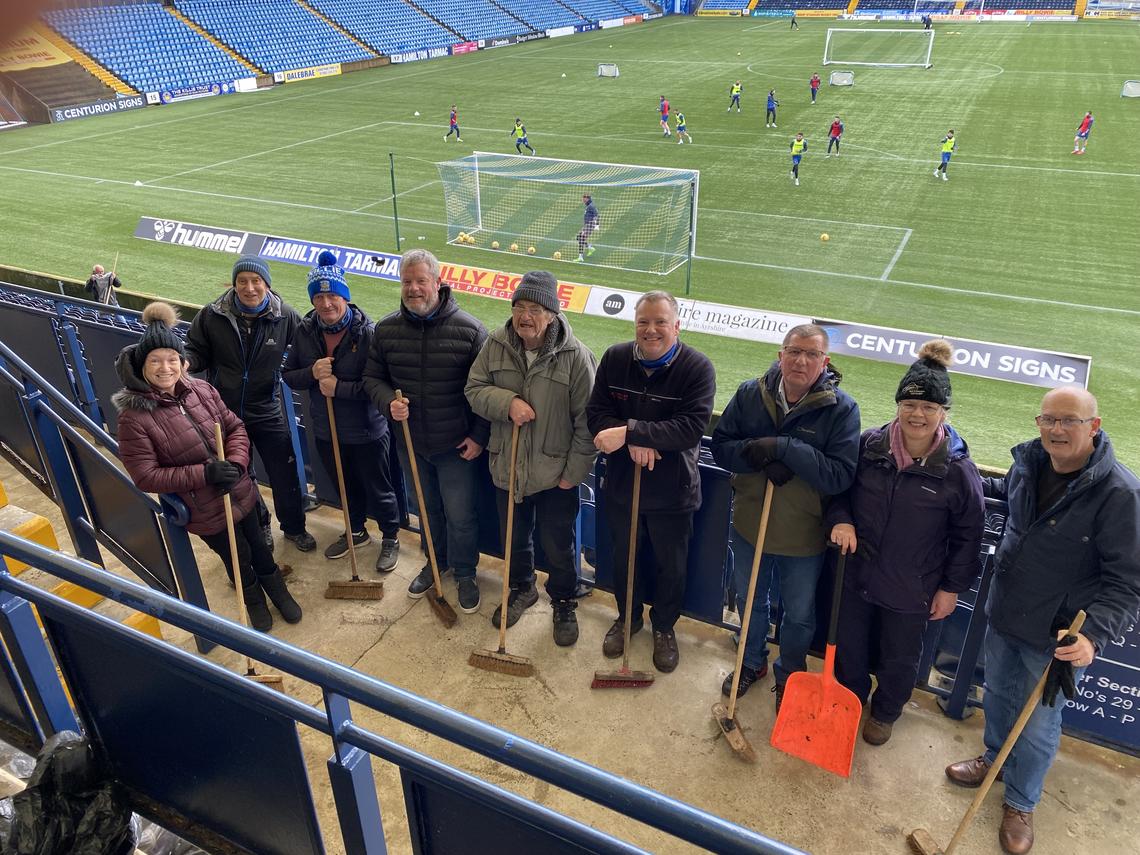 Thanks to Killie Trust for organising stadium clean ups to help ground staff. It is planned to make this a regular part of the Trust's work, as well as picking up again on East Ayrshire Council's "I Clean my Space" environmental initiative.
It is intended to have the information for Memorial Garden plaques available from start of new season.
When completed, the museum space will host exhibitions and will also be used for a family friendly and season ticket holder upgrade area, from the start of next season.
Media
Fan engagement with Club media channels is being monitored and evaluated as we look to continuously improve our output. Of particular note is that the You Tube Channel is up 147%, with the watch time also increasing, and an additional 120 subscribers to the channel. Not surprisingly perhaps, the most popular content was Kyle Lafferty's overhead kick for the goal against Dunfermline.
The social media reach goes beyond local involvement giving international fans and audiences access to Killie content. Club account had 6.75 million impressions in January, compared to 4.2m in December and 2.1m November, with Derek McInnes and Kyle Lafferty announcements creating most interest.
The "alternative view" footage has been very popular on this platform, with fans enjoying seeing themselves and their families and friends!
Mixed in with match footage and football content has been information on commercial offerings, including the new retro shirts, and there has been increased content made available on the Women's first team.
The monthly magazine has received positive feedback, including from SPFL match delegates, with more in-depth features and it was featured in Nutmeg Magazine in a feature on the changing times of football programmes.
In addition to the usual features, the Club participated in the White Ribbon campaign against domestic violence. An interview with East Ayrshire Councillor Jim McMahon was shared via social media and on Killie TV.
Kilmarnock FC Women
Following various discussions on the future of the women's senior game in Scotland, clubs agreed to move to a new set up under the auspices of the SPFL from next season. The SPFL has committed to setting up a separate Board to oversee this, and discussions are ongoing on the next steps. We have made known some concerns about lack of engagement with SWPL 2 teams in the lead up to this and hope to see that improve going forward. James Fowler has been appointed to a working group which will have an input to developments.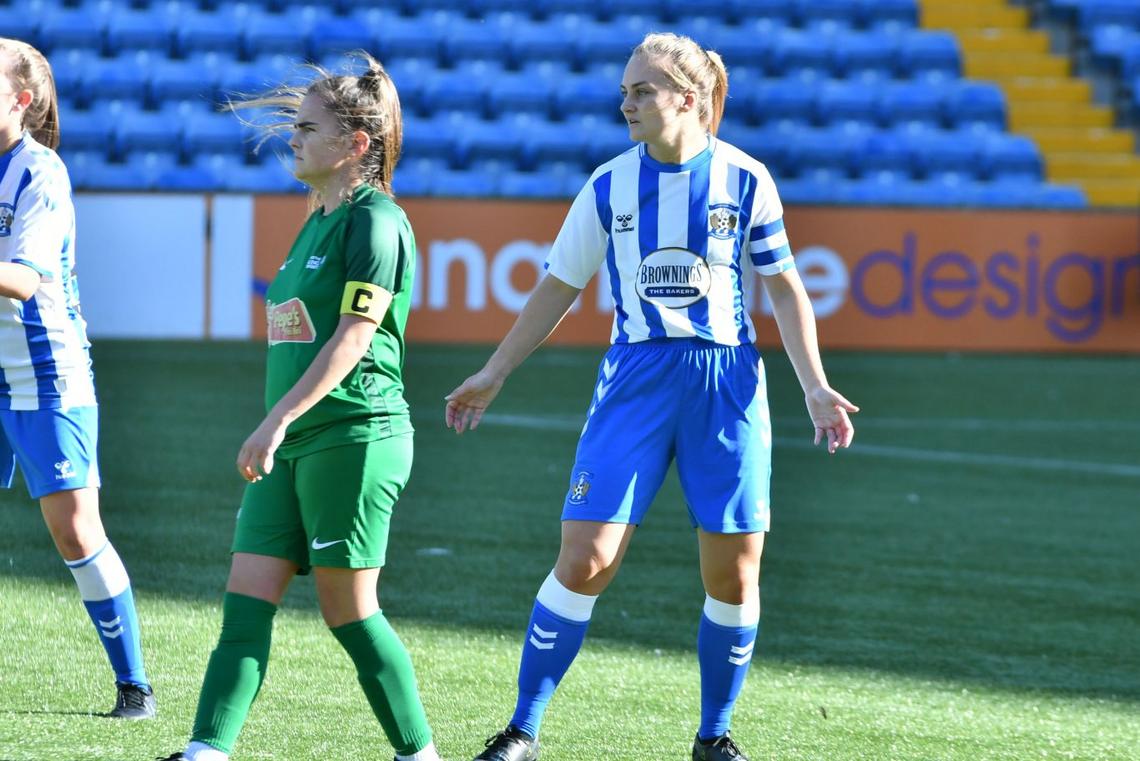 After a 4- 0 victory over Stirling University, we are still sitting 4th in table, only one point behind Boroughmuir. With two teams able to be promoted, there is everything to play for.
Information on women's team matches is shared on club social media channels so fans can get along and support the team. It's been good to see a growing band of dedicated supporters backing the women.
Kilmarnock FC Youth Academy
Paul di Giacomo has continued with the reorganising of the academy coaching side to give the youth the best possible experiences. Current set responsibilities are:
Under 18s Craig Clark and Ross Chisholm
Under 17s Chris Burke and Brian McLean
Under 16s Jim McLeod
Under 15s James McHarg and Jim McCubbin
Under 14s Steven McLean
Under 13s Kevin Proctor
Under 12s Gary Hastings
Under 11s Craig Hamilton
The Academy youth will begin to use Ayrshire College facilities for training from this month and Billy Bowie has donated the use of the 8-seater minibus from the Park Hotel for the Academy to use for away matches.
The Academy has invested in a Pixelot camera to assist with recording of training and matches and has had assistance from volunteers on manual camera work.
Upcoming fixtures for our Under 18's (final details to be confirmed) -
Morton 12/13 March
Ross County 19/20 March
St Johnstone 16/27 March
Community engagement and Kilmarnock Community Sports Trust (KCST)
Jordan Allison has been appointed to the Charity Manager role within KCST and started in post at end of February. He previously worked with Show Racism the Red Card and has experience of fundraising as well as campaigning. We are looking forward to the range of activities under the KCST umbrella being expanded and supporting activities for all age groups.
A calendar of fundraising events has been drawn up, and the Ladies Day held at the Hamilton match saw over £2500 raised through raffle and bingo, which will be split with our charity partners Crosshouse Community Fund.
In the immediate future, Jordan will be focussing on
Improving communications and raising awareness of the impact of our community work
Launching of new programmes

Including mental health awareness, defibrillator train-the-trainer sessions in schools, Women's Weigh to Go, drop-in sessions to tackle loneliness and more...

Funding opportunities

including community fundraising events such as the Kiltwalk – more details soon!
KCST has secured funding for a brand new outdoor defibrillator + insulated case, which will be accessible accessible to all 24/7, including the Park Hotel. On top of their upcoming first aid training, the KCST team will also receive free defib training, which will then be developed into a programme for local S4-6 school students.
The Club also gave Lochlan's Legacy the opportunity to collect items for the appeal for supplies for Type 1 diabetics in Ukraine, with a drop off point in the club superstore.
https://kilmarnockfc.co.uk/news/lochlans-legacy-ukraine-appeal-collection/
A number of fans have asked about other collections, but I am aware from various organisations that they have been overwhelmed with donations of goods and are therefore asking that people donate cash via various aid agencies if they can afford to.
Ways to donate can be found via these links:
https://www.dec.org.uk/appeal/ukraine-humanitarian-appeal
https://www.unicef.org.uk/donate/donate-now-to-protect-children-in-ukraine/
We were delighted to have "The Unlikely Lads" along to the cup match to perform paper Roses in person, after their recent TV appearances! They all had a fantastic time in the Legends Lounge and brightened up what wasn't the best of evenings for us. Hopefully we can build on this link with Centrestage, and we are looking to have them along for a stadium and museum tour at a suitable point in future.
Everyone at the Club was devastated at the passing of stalwart fan Colin McCue, who became acutely unwell immediately after the derby match against Ayr. As a mark of respect, a minute's silence was held at the following home match, and we were grateful also to the Ayr fans who paid their respects and showed their support for Colin's family.
Child Protection and Wellbeing
The group is continuing to meet monthly and has been reviewing a draft matchday protocol on safety of children, with feedback going to Club Safety Officer. In addition to Charlie Adams as Club CWPO, Peter Irons is taking on role of CWPO for the Killie Trust and KCST, and Yvonne Howie is continuing in that role for Killie girls. All are now linking together to give a more coordinated approach and to ensure support is available when needed.
This initiative should ensure that not only does KFC meet the requirements under the SFA Club licensing system, but that we are ahead in being able to meet any further requirements likely to come in response to the Independent Report of Abuse in Scottish Football.
Should anyone have concerns about child protection and wellbeing at the club the CWPO can be contacted directly [email protected]
Killie Trust update
Last month's Killie Trust activities included our regular Trust Board meeting plus the first of our online "Open Forums" for Trust members. The forum provided several suggestions for further publicising the work of the Trust and growing our membership for the benefit of the Club.
Following issues raised at the Trust AGM on traffic and pedestrian issues on match days, I arranged a meeting with Club Safety Officer, with myself, Trust Chair Jim Thomson, SLO Allen Kyle and Peter Orr, Chair of KFCDSA. This was a helpful opportunity to discuss the problems and explore solutions. As a result, changes were made, and the following information communicated on the club website and the various matchday social media messages
"Supporter Transport Update"
We've listened to concerns over traffic management on matchdays, especially around the roadway at Dundonald Place onto Dundonald Road. This section is subject to No Waiting on a match day and vehicles may be given a Parking Ticket (Penalty Charge Notices) if they fail to comply.
At the end of the match, please note the carparks (including The Park Hotel) will reopen when Pedestrian traffic is at a minimum and vehicular traffic is safe to move. This usually takes 10/15 minutes after full time and such vehicular movement would only be on the instruction of a safety steward.
These restrictions also apply to anyone who is dropping off or picking up from the stadium.
All disabled space passes should be requested via Kilmarnock Football Club Disabled Supporters Association (KFCDSA). On matchday, KFCDSA members will have to display their pass in order to get parking."
The Killie Trust Goalkeeping Academy continues to grow, with additional coaches in place to accommodate the numbers of children and young people who want to be involved. The Trust is working on securing dedicated funding for this, but donations are welcome, and a special link has been set up on the Very Connect platform for this.
I was pleased to welcome Trust monthly draw winner Jim McPike and his guest Frank Hamilton as Boardroom and Director's Box guests for the match against Hamilton Accies. They had an enjoyable day, made even better by a win!
Future Trust events:
Unfortunately, our 'On Board, In Person' evening with manager Derek McInnes, scheduled for the Park Suite on Thursday 17 March, has had to be postponed due to unforeseen circumstances. This sold out event WILL be rescheduled and original bookings will be honoured.
The next online Open Forum for Trust members will take place via Zoom on Tuesday 29 March and details will be circulated soon and we look forward to hearing more of your thoughts on relevant issues.

The Killie Masters Invitational Golf day will take place on Friday 27th May at Ballochmyle Golf Course. Each team of 3 players will be captained by a former Killie Legend! Cost per team is £200, which includes tea/coffee and breakfast beforehand, and a two-course meal afterwards, with various prizes on offer! Entry forms are available by emailing -[email protected].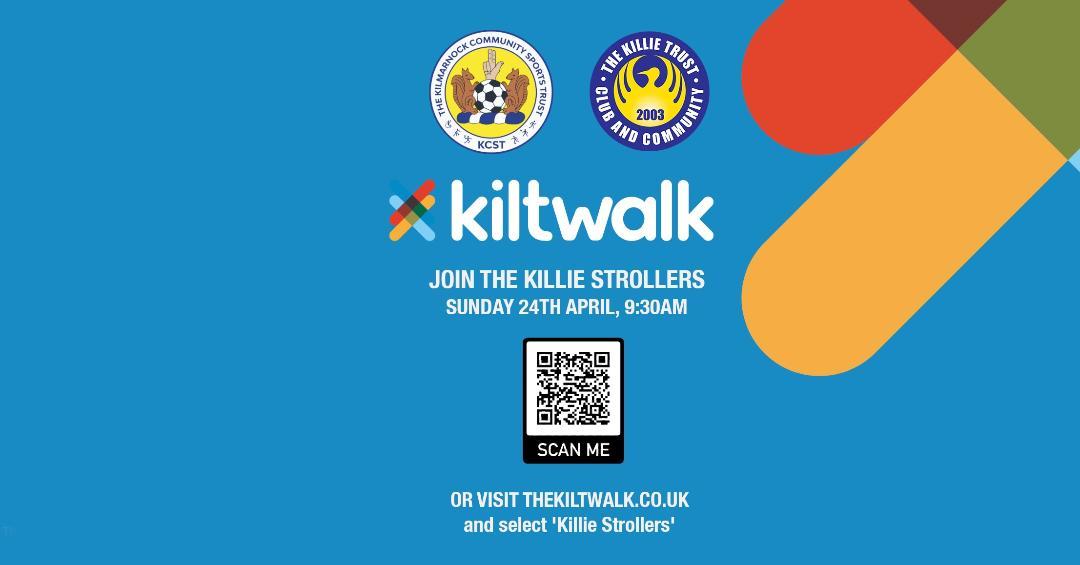 The Trust have joined forces with KCST staff to take part in this years Kiltwalk in Glasgow to raise funds to help to:
Support the next generation of Kilmarnock FC players, raising funds for our youth and community academies to buy equipment, including warm jackets for every player.
Support our community objectives to use football as a tool for good, enabling programmes such as our work in local schools, our programmes tackling food poverty, loneliness, mental health and wellbeing, dementia and Alzheimers and so much more.
We'd love you to consider becoming involved and there's different distances to suit all 'strollers' - the Wee Wander (approx. 3-5 miles), the Big Stroll (14.5 miles) or the Mighty Stride (22.6 miles)
Register here - scan the QR code below to join our Killie Strollers.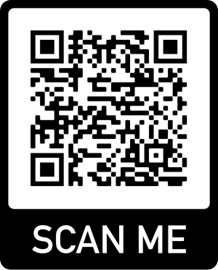 Can I gently remind members who have not yet registered on the Very Connect platform to take a few minutes to do that, as the Trust will increasingly be using that space as appoint of communication – and while you are on it is worth taking a few minutes to read some of the short blogs by Killie fans abroad!
And for anyone reading this who is not yet a Trust member, please do sign up! It is £10 per year for membership, which helps with the general running and administration of the Trust, and there are options to donate to Trust in Killie, which allows the Trust to invest in the Club in return for shares.
https://www.thekillietrust.com/join-the-trust
I can be contacted in a number of ways:

Email: [email protected]
Twitter: @cathyjamieson
Instagram: cathyjamiesonkillie
Facebook: cathy jamieson

While I am happy to engage on social media when I can, I'm sure members will understand that I am not monitoring that round the clock, so may not be able to instantly reply, and an email to me is often a better way of dealing with more complex issues.

Supporters Liaison Officer Allen Kyle can be contacted by email [email protected]
I am in contact with him on a regular basis to discuss issues which have been brought to him and may need raised with the Club Board.