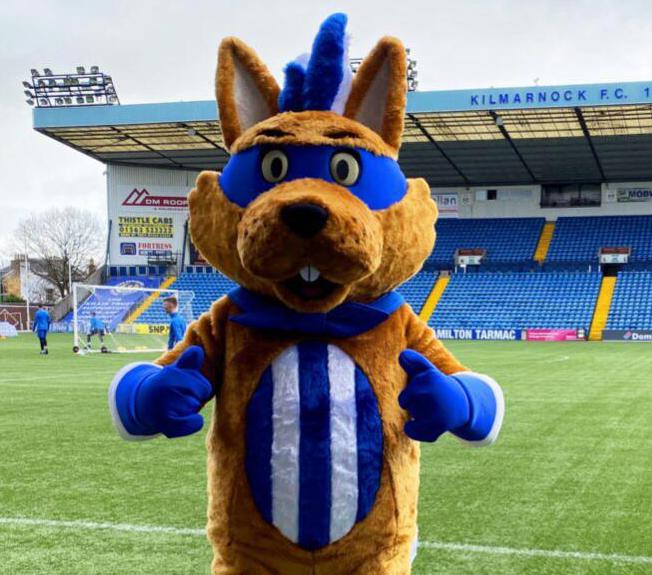 On 31 July 2020, Kilmarnock Football Club unveiled its new club mascot, Captain Conker.
When we heard that Cyril the Squirrel was being 'retired', the Trust thought that this would be a fantastic opportunity for one of our funding projects. We approached the Club, who were delighted to accept and also agreed to our ulterior motive of it being available for appearances at lots of community events in the local calendar. To make it an 'inclusive supporter project', the Trust approached our Supporters Association (KFCSA) to share the costs, which they readily agreed to do.
The Club's new - hopefully lucky! - mascot was designed by East Ayrshire school children following a competition organised by Kilmarnock Community Sports Trust and judged by representatives of the Club, Trust and KFCSA. Over 200 entries were received and 15 local schools participated. A number of innovative and impressive entries were brought together and incorporated into the final costume.
Captain Conker was about to make his debut at our home game against St. Mirren on Saturday 14 March but his appearance was thwarted by the postponement of that match as a result of Covid-19. We look forward to the return of all Killie fans to Rugby Park in the very near future ....and to see Captain Conker on what will surely prove to be a really special day. And 'The Captain' has already made a televison debut on the BBC...
Our new mascot is a real community success story, with input from the club, the Kilmarnock Community Sports Trust, the Killie Trust, the Kilmarnock FC Supporters Association and the wider community as a whole.
The Trust share of the overall funding was provided from our general fund surplus.
Image credit: Kilmarnock FC